NONOPERATED WI IN MATURE OILFIELD
Producing Properties
All Standard Disclaimers Apply & Seller Rights Retained
---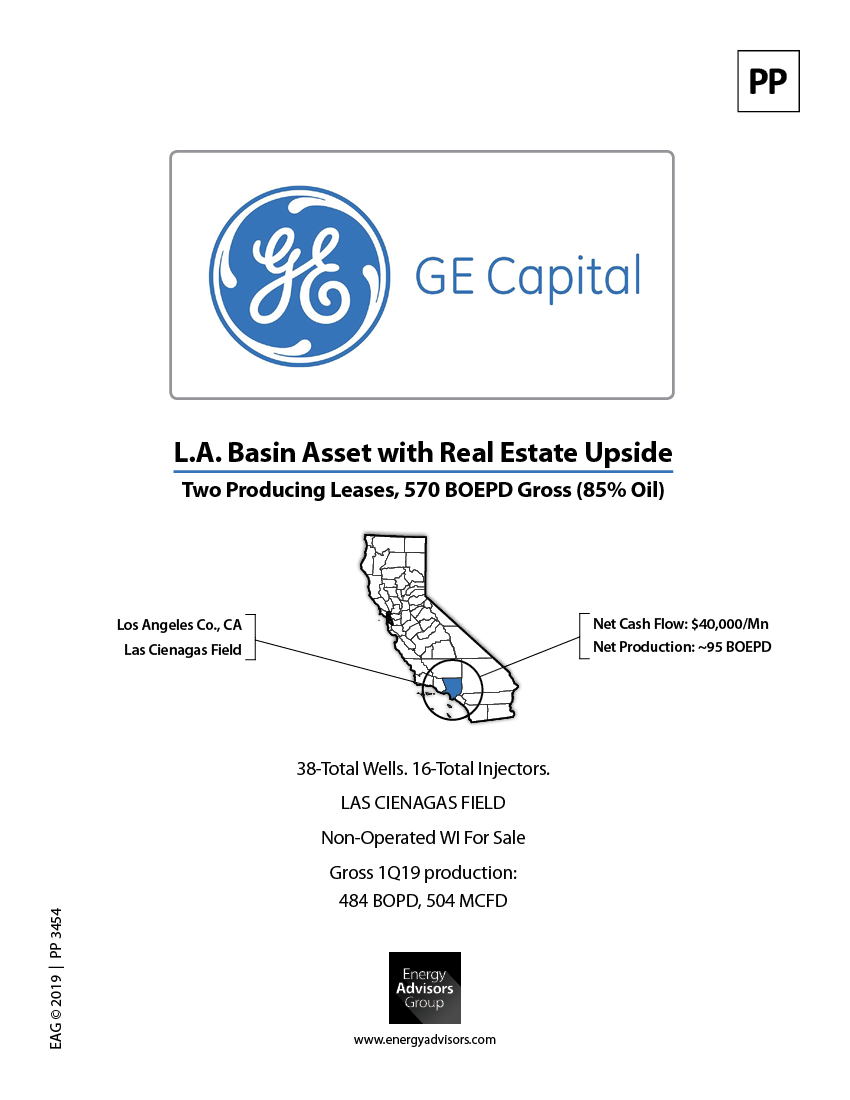 LOS ANGELES CO., CA NONOP
3-Lses. 47-Wells. 21-Injectors.
LAS CIENAGAS FIELD
SOLID OPERATOR
RESIDUAL REAL ESTATE VALUE
NonOperated WI For Sale
Gross Vols: 547 BOPD and 497 MCFD
Some Water Production: 5,423 BWPD
LOW DECLINE. MATURE WATERFLOOD
SOLD BY EAG - NOVEMBER 2019
PP 3454
Summary
Energy Advisors Group has been retained by West Coast Energy Properties, LP, a partnership of GE Capital and Longfellow Energy, LP (collectively "WCEP") to market WCEP's non-operated working interest in three leases within the historic Las Cienagas oilfield located in Los Angeles, California.

Monthly cash flow from these leases net to WCEP is about $110,000.

Two of the leases — Jefferson (10.26% WI) and Murphy (18% WI) — produce a combined 630 BOEPD (87% oil) as of late 2017 via waterflood. Meanwhile, the Fourth Avenue lease (18% WI) is now being plugged and abandoned. Upon its expected sale early next year, Fourth Avenue will provide over $2 million of residual real estate value.

The operator of all three leases, Sentinel Peak Resources, is a specialist in urban L.A. basin operations backed by private equity firm Quantum Energy Partners. Other partners on the leases include Bridgemark Corporation, an oil producer based in Orange County, California, and Matrix Oil Corporation, recently merged with Royale Energy of San Diego.

This section of the Las Cienagas field has been developed since the 1960s, and most recently was operated by Freeport McMoRan. In early 2017, Sentinel Peak assumed operatorship of this field as part of its acquisition of Freeport's entire California portfolio for $742 million.

This opportunity will attract companies looking to enter a low decline, mature oilfield, partnering with a well-capitalized E&P operator wholly focused on California.

Murphy Lease:
The Murphy Drill site includes 21 active producing wells, 2 idle wells, 8 active injectors, and 1 inactive injector. As of 4Q17, gross production is 329 BOPD (21 API gravity) and 244 MCFD, with 4430 BWPD.

Since 2001, oil, gas, and water production has held steady, while more recently, the operator has recompleted various wells into new zones. Projected 2018 cash flow for this lease is over $1.5 million; the field is projected to remain cash-flow positive for at least ten more years (without factoring in abandonment costs). WCEP's working interest in this lease is 18%, and its revenue interest is about 14%.

Jefferson Lease:
Producing about 220 BOPD and 250 MCFD, the Jefferson lease includes 17 active producing wells, 7 idle producers, 8 active injectors, and 1 inactive injectors as of late 2017. The water production/injection on this lease totaled 670 BWPD in late 2017.

For the next five years, this lease is projected to remain cash-flow positive (before P&A). In October 2017, the City of Los Angeles imposed additional environmental regulations for this lease, which operator Sentinel Peak is currently appealing. For now, the operator's plan is to maintain current production and abandon certain wells as needed. WCEP's working interest in Jefferson is about 10.3%, and its revenue interest is about 8.5%.

TO LEARN MORE
Energy Advisors Group
Mr. David Kessler
Director - International
5120 Woodway Dr Ste 10010
Houston, TX 77056
---Call Cell: 832-629-8698
---Email: [email protected]rgyadvisors.com

LOS ANGELES CO., CA NONOP
3-Lses. 47-Wells. 21-Injectors.
LAS CIENAGAS FIELD
SOLID OPERATOR
RESIDUAL REAL ESTATE VALUE
NonOperated WI For Sale
Gross Vols: 547 BOPD and 497 MCFD
Some Water Production: 5,423 BWPD
LOW DECLINE. MATURE WATERFLOOD
SOLD BY EAG - NOVEMBER 2019
PP 3454
Summary
Energy Advisors Group has been retained by West Coast Energy Properties, LP, a partnership of GE Capital and Longfellow Energy, LP (collectively "WCEP") to market WCEP's non-operated working interest in three leases within the historic Las Cienagas oilfield located in Los Angeles, California.

Monthly cash flow from these leases net to WCEP is about $110,000.

Two of the leases — Jefferson (10.26% WI) and Murphy (18% WI) — produce a combined 630 BOEPD (87% oil) as of late 2017 via waterflood. Meanwhile, the Fourth Avenue lease (18% WI) is now being plugged and abandoned. Upon its expected sale early next year, Fourth Avenue will provide over $2 million of residual real estate value.

The operator of all three leases, Sentinel Peak Resources, is a specialist in urban L.A. basin operations backed by private equity firm Quantum Energy Partners. Other partners on the leases include Bridgemark Corporation, an oil producer based in Orange County, California, and Matrix Oil Corporation, recently merged with Royale Energy of San Diego.

This section of the Las Cienagas field has been developed since the 1960s, and most recently was operated by Freeport McMoRan. In early 2017, Sentinel Peak assumed operatorship of this field as part of its acquisition of Freeport's entire California portfolio for $742 million.

This opportunity will attract companies looking to enter a low decline, mature oilfield, partnering with a well-capitalized E&P operator wholly focused on California.

Murphy Lease:
The Murphy Drill site includes 21 active producing wells, 2 idle wells, 8 active injectors, and 1 inactive injector. As of 4Q17, gross production is 329 BOPD (21 API gravity) and 244 MCFD, with 4430 BWPD.

Since 2001, oil, gas, and water production has held steady, while more recently, the operator has recompleted various wells into new zones. Projected 2018 cash flow for this lease is over $1.5 million; the field is projected to remain cash-flow positive for at least ten more years (without factoring in abandonment costs). WCEP's working interest in this lease is 18%, and its revenue interest is about 14%.

Jefferson Lease:
Producing about 220 BOPD and 250 MCFD, the Jefferson lease includes 17 active producing wells, 7 idle producers, 8 active injectors, and 1 inactive injectors as of late 2017. The water production/injection on this lease totaled 670 BWPD in late 2017.

For the next five years, this lease is projected to remain cash-flow positive (before P&A). In October 2017, the City of Los Angeles imposed additional environmental regulations for this lease, which operator Sentinel Peak is currently appealing. For now, the operator's plan is to maintain current production and abandon certain wells as needed. WCEP's working interest in Jefferson is about 10.3%, and its revenue interest is about 8.5%.

TO LEARN MORE
Energy Advisors Group
Mr. David Kessler
Director - International
5120 Woodway Dr Ste 10010
Houston, TX 77056
---Call Cell: 832-629-8698
---Email: [email protected]