STX Conventional PDP+3D Prospects
Producing Properties
All Standard Disclaimers Apply & Seller Rights Retained
---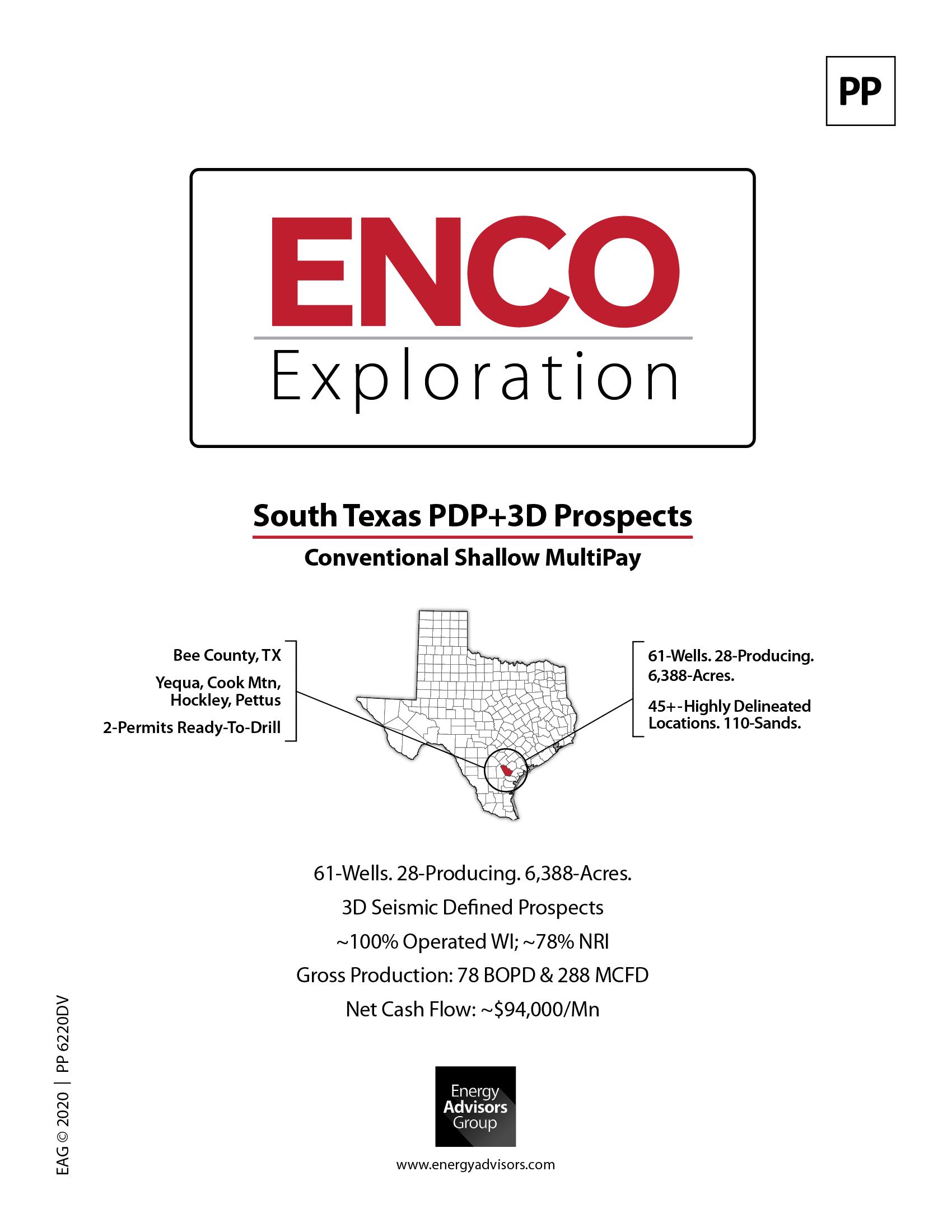 BEE CO., TX ASSETS FOR SALE
61-Wells. 28-Producing. 6,388 Acres.
CONVENTIONAL SHALLOW MULTIPAY
YEQUA, COOK MTN, HOCKLEY, PETTUS
2-PERMITS READY-TO-DRILL
3-D SEISMIC DEFINED PROSPECTS
45+-Highly Delineated Locations. 110-Sands
SIMPLE OPERATIONS
~100% OPERATED WI; ~78% NRI
Gross Production: 78 BOPD & 288 MCFD
Prior Y/E Net Revenue: $110,800/Mn
RECENT CASH FLOW: ~$78,300/Mn
5-6 Immediate Wells Increase 400-600 BOPD
45 Projects Yield: 6.2 MMBO & 6.3 BCF
MOTIVATED SELLER. SEEKS TO RETIRE
UNDER LOI. SET TO CLOSE APRIL 30
PP 6220DV
Summary
Energy Advisors Group has been retained by ENCO Exploration Co. to assist in marketing their South Texas Conventional assets including ~6,388 acres with majority 100% Operated WI and ~78% NRI. The Seller is highly motivated to sell as he seeks to retire. This project was sold at year end but the original buyer failed to close on January 31 so EAG has recently updated the package including more data on upside (45-prospects) and accounting.

AS OF APRIL 1, 2020 THIS PKG WAS PLACED UNDER CONTRACT WITH A CLOSING TARGETING APRIL 30, 2020.

THE PACKAGE----
ENCO has interests in 61-vertical wells producing from multiple shallow formations: Hockley, Pettus, Yegua and Cook Mountain.

During January 2020, the properties had gross sales of 2,319 BO & 7,468 MCF and net sales of 1,792 BO & 4,726 MCF for a net revenue of $110,800/Mn. Additionally, significant shallow behind pipe recompletion potential exists in many existing wellbores. Infrastructure exists on the properties with 15-tank battery facilities, 32-pumping units and 35-miles of pipeline.

The latest 6-month average net cash flow is $78,300/Mn. A detailed LOE can be found in the Quicklook (Tab 7 & 8) containing the $16,035/Mn (general expenses) + $16,491/Mn (superintendent, pumps, trucking/fuel) for a comprehensive $32,526/Mn.

Minimum field maintenance is required for a field of this sort. Field is well-maintained by current staff and they run a low costs operations. Some water disposal costs average $4,000-$5,000 Mn. The VDR includes significant summary accounting information and the Seller encourages interested buyers to visit his office for both detailed expenses and review of the 3-D Seismic.

Quality Oil; Quality Gas---
The produced oil is 40-45 degree gravity and it is all sweet, no paraffin and free of any contaminants. Enco's oil does not require any treatment to market. There is not any CO2 or H2S in the oil or gas. All gas is sweet with BTU in the range of 1010-1100

Large Inventory of Ready-To-Drill 3-D Seismic Prospects

2-Recent Permits on the Property, Ready-to-Drill

Significant Upside---
Recompletions
---Brown No. 1A (Currently Inactive) at 1,500 Ft offers one sand for recompletion yielding 124 MMCF
---Collier No. 3 (Currently making 20 BOPD and 3 MCFD) at 2,900-4,300 Ft offers 2 sands for recompletion yields 130 MBO
---Collier No. 11 (Currently Inactive) at 2,500 Ft offers one sand for recompletion yielding 216 MMCF
---Collier No. 15 (Currently making 0.7 BOPD & 0.2 MCFD) at 2,500 Ft offers one sand for recompletion yielding 168 MMCF
---Hollis No. 2 (Currently making 13 BOPD & 13 MCFD) at 3,175 Ft offers one sand for recompletion yielding 36 MBO
---Malone No. 5 (Currently making 4 BOPD & 2 MCFD) at 3,650 Ft offers one sand for recompletion yielding 21 MBO
---Whiddon No. 3 ( Currently making 19 MCFD) at 2,100-3,900 Ft offers 3 sands for recompletion yielding 20 MBO & 374 MMCF

Prospects
A total of 45 highly delineated 3-D vertical prospect locations exist on several thousand leased acres with immediate reserve potential of 6.2 MMBO & 6.3 BCF. These prospects are targeting multiple high-impact shallow formations (3,000-5,375') with 90% of the drill-site locations containing 2-5 targeted productive sands (Hockley, Pettus, Yegua, Cook Mountain and others). In total the seller counts 110 potential sands in these 45-immediate prospects.

With over 60-miles of Western 3-D Seismic Data across the position, these prospects are highly delineated. 3-D seismic data and prospects are available for review at ENCO Exploration offices once confidentiality agreement has been executed. The seismic can be transferred to a new purchaser.

These shallow prospects have been created after several years of work on the 3-D work station. The prospects have been tweaked and fine tuned several times for minor adjustments as to faulting and correctness both for time and depth control. The 3-D Data is excellent quality and has been reprocessed 3 times for better shallow depth control. In addition to the 45-New Drills many of the prospects will require drilling several additional wells because of their size and/or multiple sands to fully develop and recover their reserves.

All purchasers are encouraged to review the 45 plus prospects on the Workstation so they can make their own evaluation to the correctness. The seismic and workstation are located in Corpus Christi.

Quick Highlights---
---60 Miles of Western 3-D Seismic
---Seller and Data Room Can Document 36 Leases 3-D Seismic Prospects
---SMT 3-D Program and 3-Wide Screen Display Work Station.
---Simple Operations
---One Hour Circuit To Drive Fields And Operate
---Low Costs of Operations.
---All of the Wells' Geological Log Information in the Seismic Area have been input into Enco's work station computer for easy one click access.

Equipment & Infrastructure---
---15 Tank Battery Facilities (210 and 400 Barrel Tanks)
---32 Pumping Units mounted on concrete portable bases. (4 With Electric Motors and 28 With Arrow Gas Engines).
---5200'± of 4-1/2" L T&C J-55 New Casing
---All Wellheads are GE Series 900 (several in inventory)
---4-1/2" Production Casing has been cemented to surface on all wells.
---Several thousand feet of 2-3/8" Tubing and 3/4" and 5/8" Sucker Rods in inventory.
---5 Gas Sales Meter Stations
---2" Oil and Gas flow lines are welded fusion bond coated.
---35 Miles of Southern Gas 2", 2-1/2", 3", 4" and a 6" pipeline with Cathodic Protection

Gathering---
---Southern Gas Marketing has approximately 50 miles of pipelines and it goes with the sale.
---There are 2 systems, The Mineral System and the LaPara System.
---These pipelines are located in Bee and Live Oak counties.
---All of these pipelines are 2", 2-1/2" , 3" and 4" and it is all coated and wrapped and protected by 3 rectifiers and anodes.
---La Para System is a high pressure pipeline that operates at approximately 800 psi and Mineral System is a low pressure pipeline that operates about 100 psi.
---Income from one Seller at present on our Mineral System with a net income to Southern of $1,500-$2,000/mo.
---All of the pipelines in Bee County have been used for one gas market and can be utilized and necessary for some new gas sales from several of our new drill prospects.
---Replacement costs for this pipeline would be in excess of $2.500,000.00 Million Dollars.
---The oil is sold to Martin Crude Marketing Co in a 9 page contract in a 9 page contract available in the VDR.

Divestiture Q&A
Oil API Gravity.
All the produced oil is 40 - 45° gravity and is sweet. No paraffin, free of any contaminants and does not require any treatment to market.

CO2 and H2S Production.
There is not any CO2 or H2S in the oil or gas. Gas is sweet with a range of 1010 - 1100 BTU.

Does Seismic Come with the Assets?
Yes, the Seismic can be transferred to a new Buyer. ENCO has a Contract License Agreement with Western dated March 5, 2001. Such Agreement provides that the seismic can be acquired by a new Buyer and transferred by ENCO to a new Buyer for one-half of ENCO's Purchase Price.

Does Seismic Cover All Wells?
The 60 Miles of Western Data covers all of the 45 3-D Prospects.

Access to Production Database. Pressure Data Available?
ENCO does not have a production database. All the reservoir pressures are normal and there are no abnormal pressures recorded. All the producing wells have shown pressure gradients equal to from .43 - .45#/foot. In the original evaluation at the time the wells are drilled they were evaluated by Sidewall Cores, RWA Shows and Pressure Data.

Contact Energy Advisors Group to set up an appointment to review data.

Energy Advisors Group
Mr. Mark Gerges
A&D Associate
5120 Woodway Dr Ste 10010
Houston, TX 77056
-----Phone: 713-600-0123 Direct: 713-600-0144 Cell: 281-995-4619
-----Email: [email protected]

BEE CO., TX ASSETS FOR SALE
61-Wells. 28-Producing. 6,388 Acres.
CONVENTIONAL SHALLOW MULTIPAY
YEQUA, COOK MTN, HOCKLEY, PETTUS
2-PERMITS READY-TO-DRILL
3-D SEISMIC DEFINED PROSPECTS
45+-Highly Delineated Locations. 110-Sands
SIMPLE OPERATIONS
~100% OPERATED WI; ~78% NRI
Gross Production: 78 BOPD & 288 MCFD
Prior Y/E Net Revenue: $110,800/Mn
RECENT CASH FLOW: ~$78,300/Mn
5-6 Immediate Wells Increase 400-600 BOPD
45 Projects Yield: 6.2 MMBO & 6.3 BCF
MOTIVATED SELLER. SEEKS TO RETIRE
UNDER LOI. SET TO CLOSE APRIL 30
PP 6220DV
Summary
Energy Advisors Group has been retained by ENCO Exploration Co. to assist in marketing their South Texas Conventional assets including ~6,388 acres with majority 100% Operated WI and ~78% NRI. The Seller is highly motivated to sell as he seeks to retire. This project was sold at year end but the original buyer failed to close on January 31 so EAG has recently updated the package including more data on upside (45-prospects) and accounting.

AS OF APRIL 1, 2020 THIS PKG WAS PLACED UNDER CONTRACT WITH A CLOSING TARGETING APRIL 30, 2020.

THE PACKAGE----
ENCO has interests in 61-vertical wells producing from multiple shallow formations: Hockley, Pettus, Yegua and Cook Mountain.

During January 2020, the properties had gross sales of 2,319 BO & 7,468 MCF and net sales of 1,792 BO & 4,726 MCF for a net revenue of $110,800/Mn. Additionally, significant shallow behind pipe recompletion potential exists in many existing wellbores. Infrastructure exists on the properties with 15-tank battery facilities, 32-pumping units and 35-miles of pipeline.

The latest 6-month average net cash flow is $78,300/Mn. A detailed LOE can be found in the Quicklook (Tab 7 & 8) containing the $16,035/Mn (general expenses) + $16,491/Mn (superintendent, pumps, trucking/fuel) for a comprehensive $32,526/Mn.

Minimum field maintenance is required for a field of this sort. Field is well-maintained by current staff and they run a low costs operations. Some water disposal costs average $4,000-$5,000 Mn. The VDR includes significant summary accounting information and the Seller encourages interested buyers to visit his office for both detailed expenses and review of the 3-D Seismic.

Quality Oil; Quality Gas---
The produced oil is 40-45 degree gravity and it is all sweet, no paraffin and free of any contaminants. Enco's oil does not require any treatment to market. There is not any CO2 or H2S in the oil or gas. All gas is sweet with BTU in the range of 1010-1100

Large Inventory of Ready-To-Drill 3-D Seismic Prospects

2-Recent Permits on the Property, Ready-to-Drill

Significant Upside---
Recompletions
---Brown No. 1A (Currently Inactive) at 1,500 Ft offers one sand for recompletion yielding 124 MMCF
---Collier No. 3 (Currently making 20 BOPD and 3 MCFD) at 2,900-4,300 Ft offers 2 sands for recompletion yields 130 MBO
---Collier No. 11 (Currently Inactive) at 2,500 Ft offers one sand for recompletion yielding 216 MMCF
---Collier No. 15 (Currently making 0.7 BOPD & 0.2 MCFD) at 2,500 Ft offers one sand for recompletion yielding 168 MMCF
---Hollis No. 2 (Currently making 13 BOPD & 13 MCFD) at 3,175 Ft offers one sand for recompletion yielding 36 MBO
---Malone No. 5 (Currently making 4 BOPD & 2 MCFD) at 3,650 Ft offers one sand for recompletion yielding 21 MBO
---Whiddon No. 3 ( Currently making 19 MCFD) at 2,100-3,900 Ft offers 3 sands for recompletion yielding 20 MBO & 374 MMCF

Prospects
A total of 45 highly delineated 3-D vertical prospect locations exist on several thousand leased acres with immediate reserve potential of 6.2 MMBO & 6.3 BCF. These prospects are targeting multiple high-impact shallow formations (3,000-5,375') with 90% of the drill-site locations containing 2-5 targeted productive sands (Hockley, Pettus, Yegua, Cook Mountain and others). In total the seller counts 110 potential sands in these 45-immediate prospects.

With over 60-miles of Western 3-D Seismic Data across the position, these prospects are highly delineated. 3-D seismic data and prospects are available for review at ENCO Exploration offices once confidentiality agreement has been executed. The seismic can be transferred to a new purchaser.

These shallow prospects have been created after several years of work on the 3-D work station. The prospects have been tweaked and fine tuned several times for minor adjustments as to faulting and correctness both for time and depth control. The 3-D Data is excellent quality and has been reprocessed 3 times for better shallow depth control. In addition to the 45-New Drills many of the prospects will require drilling several additional wells because of their size and/or multiple sands to fully develop and recover their reserves.

All purchasers are encouraged to review the 45 plus prospects on the Workstation so they can make their own evaluation to the correctness. The seismic and workstation are located in Corpus Christi.

Quick Highlights---
---60 Miles of Western 3-D Seismic
---Seller and Data Room Can Document 36 Leases 3-D Seismic Prospects
---SMT 3-D Program and 3-Wide Screen Display Work Station.
---Simple Operations
---One Hour Circuit To Drive Fields And Operate
---Low Costs of Operations.
---All of the Wells' Geological Log Information in the Seismic Area have been input into Enco's work station computer for easy one click access.

Equipment & Infrastructure---
---15 Tank Battery Facilities (210 and 400 Barrel Tanks)
---32 Pumping Units mounted on concrete portable bases. (4 With Electric Motors and 28 With Arrow Gas Engines).
---5200'± of 4-1/2" L T&C J-55 New Casing
---All Wellheads are GE Series 900 (several in inventory)
---4-1/2" Production Casing has been cemented to surface on all wells.
---Several thousand feet of 2-3/8" Tubing and 3/4" and 5/8" Sucker Rods in inventory.
---5 Gas Sales Meter Stations
---2" Oil and Gas flow lines are welded fusion bond coated.
---35 Miles of Southern Gas 2", 2-1/2", 3", 4" and a 6" pipeline with Cathodic Protection

Gathering---
---Southern Gas Marketing has approximately 50 miles of pipelines and it goes with the sale.
---There are 2 systems, The Mineral System and the LaPara System.
---These pipelines are located in Bee and Live Oak counties.
---All of these pipelines are 2", 2-1/2" , 3" and 4" and it is all coated and wrapped and protected by 3 rectifiers and anodes.
---La Para System is a high pressure pipeline that operates at approximately 800 psi and Mineral System is a low pressure pipeline that operates about 100 psi.
---Income from one Seller at present on our Mineral System with a net income to Southern of $1,500-$2,000/mo.
---All of the pipelines in Bee County have been used for one gas market and can be utilized and necessary for some new gas sales from several of our new drill prospects.
---Replacement costs for this pipeline would be in excess of $2.500,000.00 Million Dollars.
---The oil is sold to Martin Crude Marketing Co in a 9 page contract in a 9 page contract available in the VDR.

Divestiture Q&A
Oil API Gravity.
All the produced oil is 40 - 45° gravity and is sweet. No paraffin, free of any contaminants and does not require any treatment to market.

CO2 and H2S Production.
There is not any CO2 or H2S in the oil or gas. Gas is sweet with a range of 1010 - 1100 BTU.

Does Seismic Come with the Assets?
Yes, the Seismic can be transferred to a new Buyer. ENCO has a Contract License Agreement with Western dated March 5, 2001. Such Agreement provides that the seismic can be acquired by a new Buyer and transferred by ENCO to a new Buyer for one-half of ENCO's Purchase Price.

Does Seismic Cover All Wells?
The 60 Miles of Western Data covers all of the 45 3-D Prospects.

Access to Production Database. Pressure Data Available?
ENCO does not have a production database. All the reservoir pressures are normal and there are no abnormal pressures recorded. All the producing wells have shown pressure gradients equal to from .43 - .45#/foot. In the original evaluation at the time the wells are drilled they were evaluated by Sidewall Cores, RWA Shows and Pressure Data.

Contact Energy Advisors Group to set up an appointment to review data.

Energy Advisors Group
Mr. Mark Gerges
A&D Associate
5120 Woodway Dr Ste 10010
Houston, TX 77056
-----Phone: 713-600-0123 Direct: 713-600-0144 Cell: 281-995-4619
-----Email: [email protected]