FOUR CORNERS NONOP FOR SALE
Producing Properties
All Standard Disclaimers Apply & Seller Rights Retained
---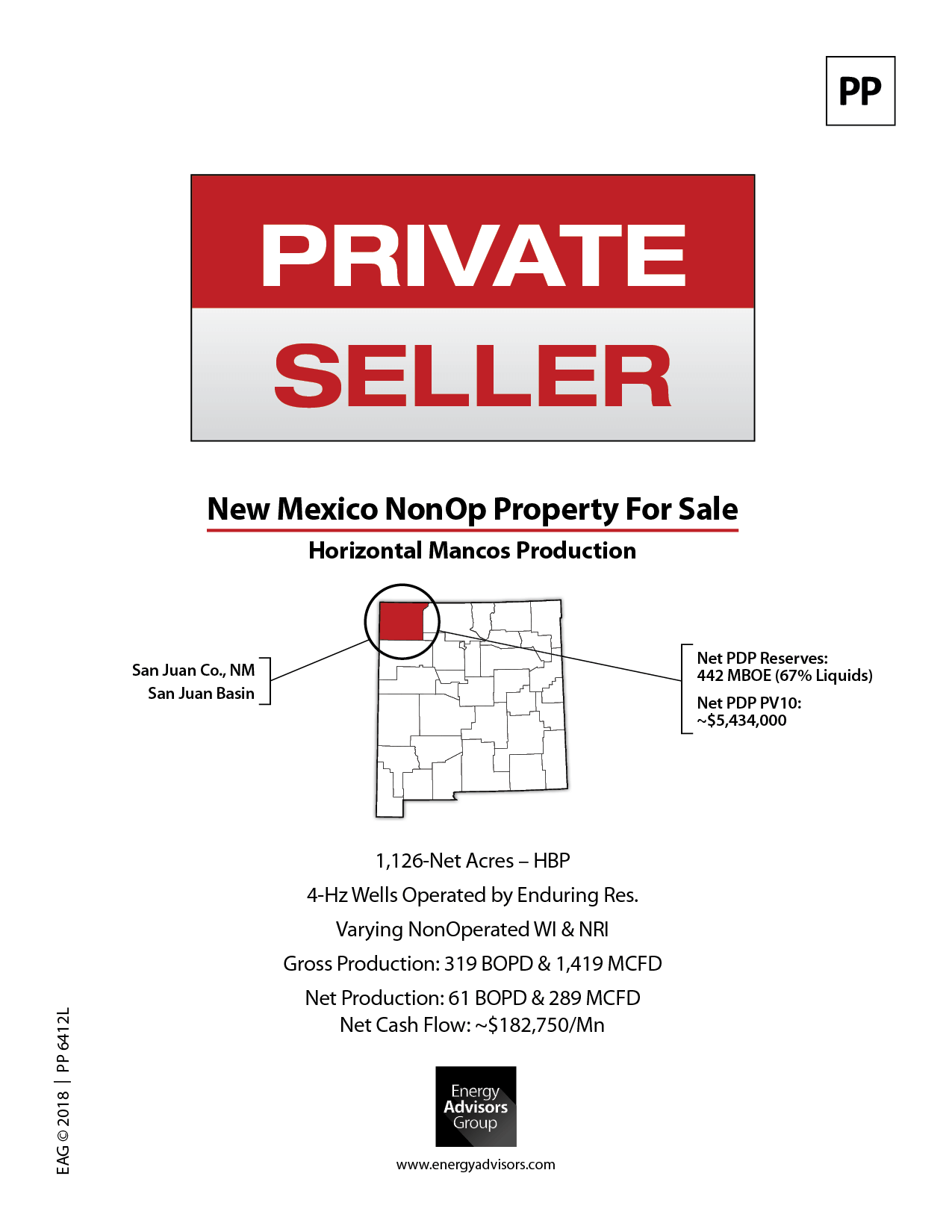 SAN JUAN CO., NM OPPORTUNITY
4-HZ Wells. 1-PUD. 304-Net Acres.
SAN JUAN BASIN
MANCOS & GALLUP
1-Additional Gallup Location
NonOperated WI For Sale
Net: 47 BOPD & 216 MCFD Plus NGLS
Recent Net Cash Flow: ~$111,260/Mn
Net PDP Reserves: ~267 MBOE
Net PDP PV10: ~$3,665,620
SOLD BY ENERGY ADVISORS APR 2019
PP 6412DV
Well Positioned in the San Juan Basin
Energy Advisors Group has been retained by a Private Seller to assist in marketing nonoperated working interest in four (4x) San Juan Co., NM wells.

This is a unique opportunity to acquire some key wells in the Mancos Shale oil window.

This position offers 4-horizontal wells generating a net cash flow of ~$111,260/Mn.

Asset Highlights
Included in the sale are 320-Gross Acres (304 Net-HBP) and 4-horizontal wells targeting the high impact Mancos/Gallup interval.

Enduring Resources operates the wells. The Seller has has a 25.33-31.67% nonperated working interest and ~19-23.75% net revenue interest in the wells that are currently producing net 47 Bopd and net 216 Mcfd plus significant NGL's.

Last Summer---
A prior engineering report noted in 2018 that the property had PDP reserves of (~442 MBOE - 67% liquids) left to be recovered that have a net PV10 value over ~$5,434,000 back last summer.

FOR MORE INFORMATION ON THIS OPPORTUNITY:
Mr. Steve Henrich
Director - Sell-Side Services
5120 Woodway Dr Ste 10010
Houston, TX 77056
Phone: 403-294-1906
Email: [email protected]

SAN JUAN CO., NM OPPORTUNITY
4-HZ Wells. 1-PUD. 304-Net Acres.
SAN JUAN BASIN
MANCOS & GALLUP
1-Additional Gallup Location
NonOperated WI For Sale
Net: 47 BOPD & 216 MCFD Plus NGLS
Recent Net Cash Flow: ~$111,260/Mn
Net PDP Reserves: ~267 MBOE
Net PDP PV10: ~$3,665,620
SOLD BY ENERGY ADVISORS APR 2019
PP 6412DV
Well Positioned in the San Juan Basin
Energy Advisors Group has been retained by a Private Seller to assist in marketing nonoperated working interest in four (4x) San Juan Co., NM wells.

This is a unique opportunity to acquire some key wells in the Mancos Shale oil window.

This position offers 4-horizontal wells generating a net cash flow of ~$111,260/Mn.

Asset Highlights
Included in the sale are 320-Gross Acres (304 Net-HBP) and 4-horizontal wells targeting the high impact Mancos/Gallup interval.

Enduring Resources operates the wells. The Seller has has a 25.33-31.67% nonperated working interest and ~19-23.75% net revenue interest in the wells that are currently producing net 47 Bopd and net 216 Mcfd plus significant NGL's.

Last Summer---
A prior engineering report noted in 2018 that the property had PDP reserves of (~442 MBOE - 67% liquids) left to be recovered that have a net PV10 value over ~$5,434,000 back last summer.

FOR MORE INFORMATION ON THIS OPPORTUNITY:
Mr. Steve Henrich
Director - Sell-Side Services
5120 Woodway Dr Ste 10010
Houston, TX 77056
Phone: 403-294-1906
Email: [email protected]