MARATHON OKLAHOMA WELL FOR SALE
Producing Properties
All Standard Disclaimers Apply & Seller Rights Retained
---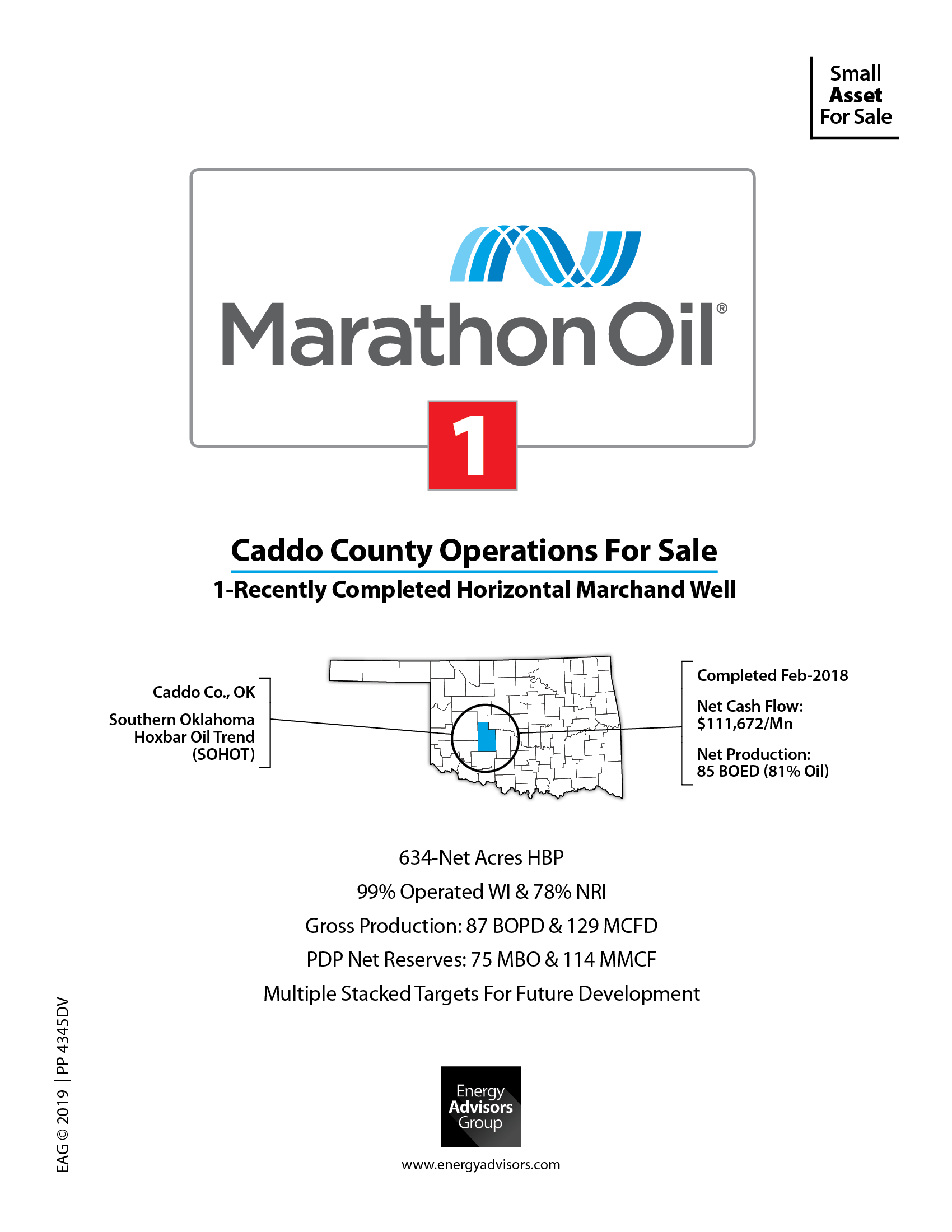 CADDO CO., OK LSE FOR SALE
1-Horizontal Well. 634-Net Acres (HBP)
SOUTHERN OKLAHOMA HOXBAR
MULTI PAY
Multiple Upside Targets For Future Ops.
Hogshooter, Medrano, Avant, Culp
Plus Cottage Grove Interval.
4,100 Ft Lateral Completed Early 2018
99% OPERATED WI & 78% NRI
Gross Production: 42 BOPD & 59 MCFD
Net Production: 41 BOED (81% Oil)
2019 Net Cash Flow: ~$54,000/Mn
EAG ACCEPTING OFFERS ON THIS WELL
ASK ABOUT MARATHON LARGER PKG
MARATHON HAS SOLD SOME ACREAGE
PP 4345DV
DEAL SUMMARY
Marathon Oil Company (MRO) is looking to sell one recently completed horizontal Marchand well located on trend with Southern Oklahoma Hoxbar Oil Trend "SOHOT" in Caddo Co., OK along w/ 634 Net Acres.

PLEASE NOTE---
Marathon also has a larger package of acreage in the same area in which the company has sold some acreage. Their flexibility should give potential buyers comfort they are motivated to move both this small package and the larger offering.

ON THIS WELL--
Marathon can deliver 99% Operated WI & 78% NRI in 1-producing well and associated leases comprising 640-gross acres (634-Net acres) 100% HBP including rights to deep Hoxbar intervals.

During November 2019, the Habanero well had gross production of 42 BOPD & 59 MCFD and net production of 33 BOPD & 46 MCFD (41 BOED 6:1). Potential purchasers should note that there is production variances w/ the State and Enverus, formerly Drillinginfo which is further explained in the Confidential VDR.

Habanero 10-11-11-1H:
-- Operated by Poblano Energy LLC, a wholly owned subsidiary of MOC
-- 4,100 ft Horizontal Marchand well
-- Completed: 02/28/2018 with 9.3 MM lbs of proppant (~2,280 lb/ft on 21-stages)
-- IP30: 278 BOED (86% Oil)
-- 12-Month Cum.: 64,311 BOE (84% Oil)

The Harbanero well generated ~$69,500/Mn net cash flow fiscal over the last eleven months ended November 30, 2019. Under different analysis the well is cash flowing about $54,000 Mn after considering recent work on the compressor. The compressor is rented for $5,072 Mn.

Upside Development Potential:
The Habanero well lies within the proven Marchand/Hogshooter fairway where there is a continuous ~2,000 ft sand column with over 800 ft of good quality Hoxbar net sands. Unit Petroleum and Kaiser-Francis have been actively developing secondary Hoxbar targets horizontally with promising results over the last ~5 years.

MultiPay Possibilities
Hogshooter: Historical vertical production. Kaiser-Francis demonstrated successful horizontal development with the McPherson 20-9-11-1H well.
Medrano: 8-Horizontal wells drilled to the southeast between 2014-2015 by Unit Petroleum with optimistic results.
Avant: Historical vertical production with potential horizontal development.
Cottage Grove: Oil productive in the basin with quality net sands.
Culp: Historical vertical production with potential to horizontal development.

Please also review Marathon Package L 8000DV described as follows:

CADDO CO., OK MULTIPAY PROJECT
~37,372-Acres. Includes All Depths.
PRODUCTIVE MARCHAND TARGET
THICK HOXBAR & SPRINGER GAS
HOGSHOOTER, MEDRANO & CULP
HIGH ROCK QUALITY
Contiguous Acreage. Lateral Development
100% OPERATED WI; HIGH NRI
Development Plan To Drill 70 Wells; Favorable Lease Expiry Terms/Extensions
50% Leases Extendable to 5 Years
Marchand EUR: 278 MBO & 338 MMCF
MOTIVATED SELLER
MARATHON SEEKS IMMEDIATE IDEAS
L 8000DV

For more on the single well opportunity and/or the large acreage position please

TO LEARN MORE
Energy Advisors Group
Ms. Carrie Calahan
5120 Woodway Dr Ste 10010
Houston, TX 77056
Phone: 713-600-0123 Fax: 713-600-0138
---------Email: [email protected]

CADDO CO., OK LSE FOR SALE
1-Horizontal Well. 634-Net Acres (HBP)
SOUTHERN OKLAHOMA HOXBAR
MULTI PAY
Multiple Upside Targets For Future Ops.
Hogshooter, Medrano, Avant, Culp
Plus Cottage Grove Interval.
4,100 Ft Lateral Completed Early 2018
99% OPERATED WI & 78% NRI
Gross Production: 42 BOPD & 59 MCFD
Net Production: 41 BOED (81% Oil)
2019 Net Cash Flow: ~$54,000/Mn
EAG ACCEPTING OFFERS ON THIS WELL
ASK ABOUT MARATHON LARGER PKG
MARATHON HAS SOLD SOME ACREAGE
PP 4345DV
DEAL SUMMARY
Marathon Oil Company (MRO) is looking to sell one recently completed horizontal Marchand well located on trend with Southern Oklahoma Hoxbar Oil Trend "SOHOT" in Caddo Co., OK along w/ 634 Net Acres.

PLEASE NOTE---
Marathon also has a larger package of acreage in the same area in which the company has sold some acreage. Their flexibility should give potential buyers comfort they are motivated to move both this small package and the larger offering.

ON THIS WELL--
Marathon can deliver 99% Operated WI & 78% NRI in 1-producing well and associated leases comprising 640-gross acres (634-Net acres) 100% HBP including rights to deep Hoxbar intervals.

During November 2019, the Habanero well had gross production of 42 BOPD & 59 MCFD and net production of 33 BOPD & 46 MCFD (41 BOED 6:1). Potential purchasers should note that there is production variances w/ the State and Enverus, formerly Drillinginfo which is further explained in the Confidential VDR.

Habanero 10-11-11-1H:
-- Operated by Poblano Energy LLC, a wholly owned subsidiary of MOC
-- 4,100 ft Horizontal Marchand well
-- Completed: 02/28/2018 with 9.3 MM lbs of proppant (~2,280 lb/ft on 21-stages)
-- IP30: 278 BOED (86% Oil)
-- 12-Month Cum.: 64,311 BOE (84% Oil)

The Harbanero well generated ~$69,500/Mn net cash flow fiscal over the last eleven months ended November 30, 2019. Under different analysis the well is cash flowing about $54,000 Mn after considering recent work on the compressor. The compressor is rented for $5,072 Mn.

Upside Development Potential:
The Habanero well lies within the proven Marchand/Hogshooter fairway where there is a continuous ~2,000 ft sand column with over 800 ft of good quality Hoxbar net sands. Unit Petroleum and Kaiser-Francis have been actively developing secondary Hoxbar targets horizontally with promising results over the last ~5 years.

MultiPay Possibilities
Hogshooter: Historical vertical production. Kaiser-Francis demonstrated successful horizontal development with the McPherson 20-9-11-1H well.
Medrano: 8-Horizontal wells drilled to the southeast between 2014-2015 by Unit Petroleum with optimistic results.
Avant: Historical vertical production with potential horizontal development.
Cottage Grove: Oil productive in the basin with quality net sands.
Culp: Historical vertical production with potential to horizontal development.

Please also review Marathon Package L 8000DV described as follows:

CADDO CO., OK MULTIPAY PROJECT
~37,372-Acres. Includes All Depths.
PRODUCTIVE MARCHAND TARGET
THICK HOXBAR & SPRINGER GAS
HOGSHOOTER, MEDRANO & CULP
HIGH ROCK QUALITY
Contiguous Acreage. Lateral Development
100% OPERATED WI; HIGH NRI
Development Plan To Drill 70 Wells; Favorable Lease Expiry Terms/Extensions
50% Leases Extendable to 5 Years
Marchand EUR: 278 MBO & 338 MMCF
MOTIVATED SELLER
MARATHON SEEKS IMMEDIATE IDEAS
L 8000DV

For more on the single well opportunity and/or the large acreage position please

TO LEARN MORE
Energy Advisors Group
Ms. Carrie Calahan
5120 Woodway Dr Ste 10010
Houston, TX 77056
Phone: 713-600-0123 Fax: 713-600-0138
---------Email: [email protected]