SMALL QUICK PERMIAN PKG TO BUY
Producing Properties
All Standard Disclaimers Apply & Seller Rights Retained
---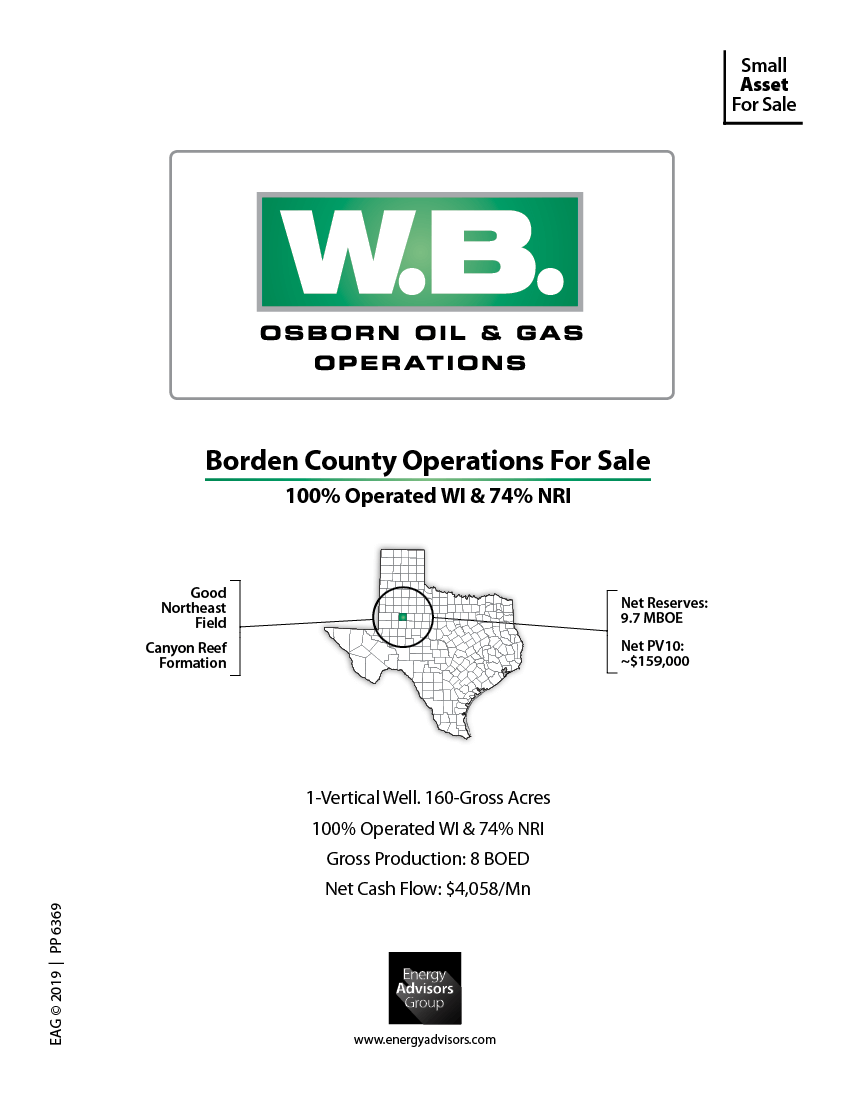 BORDEN CO., TX LSE FOR SALE
1-Vertical Well. 160- Acres.
GOOD NORTHEAST (CANYON REEF)
100% OPERATED WI & 74% NRI
Gross Production: 8 BOED
Net Cash Flow: $4,058/Mn
PDP Net Reserves: 9,700 BOE
CALL TO BUY THIS SMALL PKG
SOLD BY ENERGY ADVISORS SEP 2019
PP 6369
Summary:

QUICK SMALL SALE PKG
San Antonio based W.B. Osborn Oil & Gas to market 100% operated working interest & 74% NRI in 1-Vertical Canyon Reef well located in Borden County, TX.

This package includes 160-Gross acres of HBP leasehold in Good Northeast field as well as existing and future production from the Clayton 32-01 (~8,200' MD) which is currently producing 8 BOPD & 3 MCFD (8.3 BOED 6:1).

Over the last 6-months (December 2018 to May 2019), the property has generated $42,124 of net cash flow (Average: $4,058/Mn).

Net Reserves are projected to be 9.7 MBOE with a PV10 of ~$159,000.

TO LEARN MORE CONTACT:
Energy Advisors Group
Mr. Blake Dornak
A&D Associate
5120 Woodway Dr Ste 10010
Houston, TX 77056
---Direct: 713-600-0169 and Phone: 713-600-0123 and Cell: 903-390-6803
---Email: [email protected]

BORDEN CO., TX LSE FOR SALE
1-Vertical Well. 160- Acres.
GOOD NORTHEAST (CANYON REEF)
100% OPERATED WI & 74% NRI
Gross Production: 8 BOED
Net Cash Flow: $4,058/Mn
PDP Net Reserves: 9,700 BOE
CALL TO BUY THIS SMALL PKG
SOLD BY ENERGY ADVISORS SEP 2019
PP 6369
Summary:

QUICK SMALL SALE PKG
San Antonio based W.B. Osborn Oil & Gas to market 100% operated working interest & 74% NRI in 1-Vertical Canyon Reef well located in Borden County, TX.

This package includes 160-Gross acres of HBP leasehold in Good Northeast field as well as existing and future production from the Clayton 32-01 (~8,200' MD) which is currently producing 8 BOPD & 3 MCFD (8.3 BOED 6:1).

Over the last 6-months (December 2018 to May 2019), the property has generated $42,124 of net cash flow (Average: $4,058/Mn).

Net Reserves are projected to be 9.7 MBOE with a PV10 of ~$159,000.

TO LEARN MORE CONTACT:
Energy Advisors Group
Mr. Blake Dornak
A&D Associate
5120 Woodway Dr Ste 10010
Houston, TX 77056
---Direct: 713-600-0169 and Phone: 713-600-0123 and Cell: 903-390-6803
---Email: [email protected]