SMALL DJ BASIN ROYALTY
Royalties & Overrides
All Standard Disclaimers Apply & Seller Rights Retained
---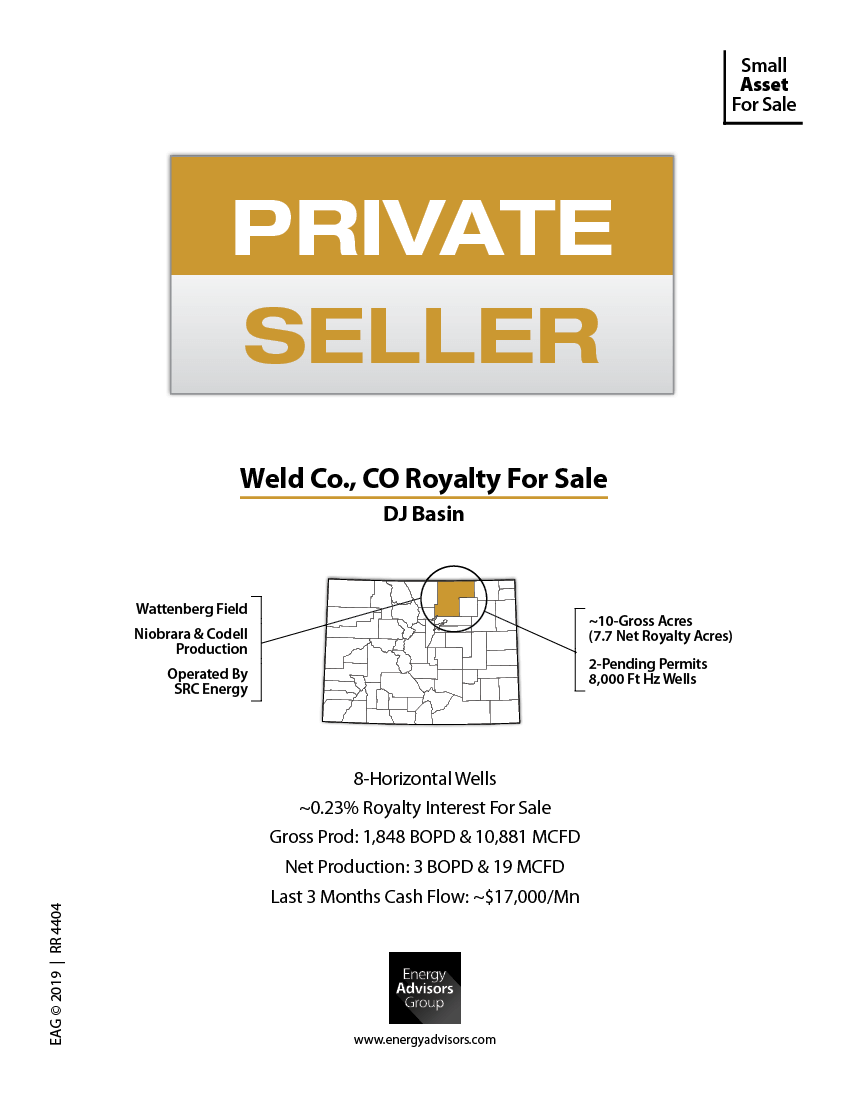 WELD CO., CO ROYALTY FOR SALE
8-Horizontal Wells.
WATTENBERG (CODELL & NIOBRARA)
20.5 Gross Acres (7.7 Net Mineral Acres)
2 Permits of 8,000 Ft Hz Wells
SOLID OPERATOR
~0.23% Royalty Interest For Sale
Gross Prod: 1,848 BOPD & 10,881 MCFD
Net Production: 3 BOPD & 19 MCFD
Last 2 Months Cash Flow: ~$7,000/Mn
SOLD BY ENERGY ADVISORS JAN 2020
RR 4404
Summary
Private Seller is offering for sale a small package of DJ Basin producing royalty operated by SRC Energy with ~$7,000 per month of net cash flow.

The sale package consists of 8 producing wells and 2 permits located in Weld Co., Colorado in the Wattenburg Field.

Current gross production totals 1,848 BOPD & 10,881 MCFD (3 BOPD & 19 MCFD Net).

This sale package allows a buyer to receive stable cash flow from successful Niobrara wells under a well-known public operator with potential for development.

The package delivers ~0.23% royalty interests ownership of 10.25 gross mineral acres (7.6875 net royalty acres).

PDC has recently acquired SRC Energy which could imply additional development on the asset.

TO LEARN MORE
Energy Advisors Group
Mr. Blake Dornak
A&D Associate
5120 Woodway Dr Ste 10010
Houston, TX 77056
USA
Phone: 713-600-0123 and Fax: 713-600-0138 Direct: 713-600-0169 Cell: 903-390-6803
Email: [email protected]


WELD CO., CO ROYALTY FOR SALE
8-Horizontal Wells.
WATTENBERG (CODELL & NIOBRARA)
20.5 Gross Acres (7.7 Net Mineral Acres)
2 Permits of 8,000 Ft Hz Wells
SOLID OPERATOR
~0.23% Royalty Interest For Sale
Gross Prod: 1,848 BOPD & 10,881 MCFD
Net Production: 3 BOPD & 19 MCFD
Last 2 Months Cash Flow: ~$7,000/Mn
SOLD BY ENERGY ADVISORS JAN 2020
RR 4404
Summary
Private Seller is offering for sale a small package of DJ Basin producing royalty operated by SRC Energy with ~$7,000 per month of net cash flow.

The sale package consists of 8 producing wells and 2 permits located in Weld Co., Colorado in the Wattenburg Field.

Current gross production totals 1,848 BOPD & 10,881 MCFD (3 BOPD & 19 MCFD Net).

This sale package allows a buyer to receive stable cash flow from successful Niobrara wells under a well-known public operator with potential for development.

The package delivers ~0.23% royalty interests ownership of 10.25 gross mineral acres (7.6875 net royalty acres).

PDC has recently acquired SRC Energy which could imply additional development on the asset.

TO LEARN MORE
Energy Advisors Group
Mr. Blake Dornak
A&D Associate
5120 Woodway Dr Ste 10010
Houston, TX 77056
USA
Phone: 713-600-0123 and Fax: 713-600-0138 Direct: 713-600-0169 Cell: 903-390-6803
Email: [email protected]