WEST COAST OPPORTUNITY
Producing Properties
All Standard Disclaimers Apply & Seller Rights Retained
---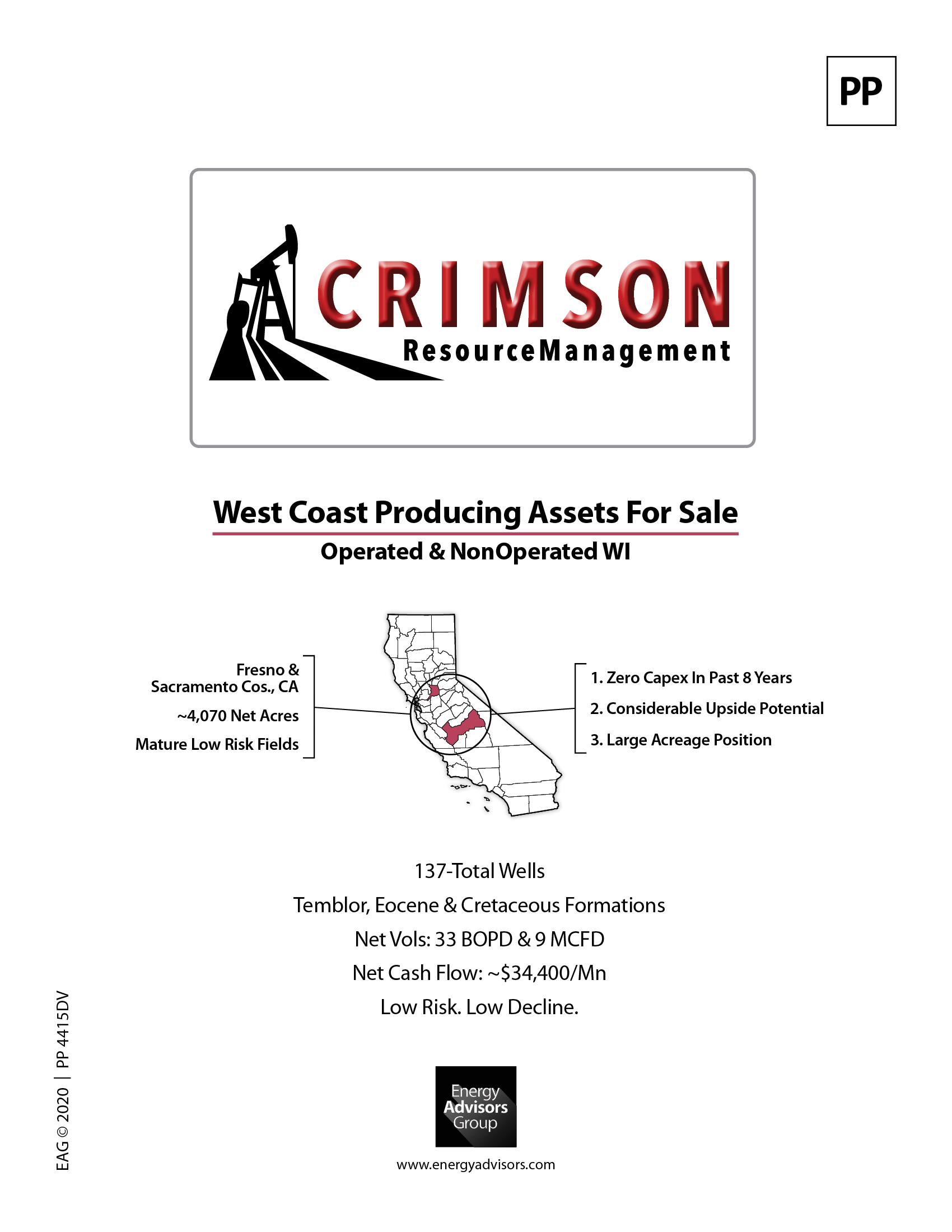 CALIFORNIA PRODUCTION FOR SALE
137-Wells. ~4,070-Net Acres.
FRESNO & SACRAMENTO COUNTIES
JACALITOS FIELD MULTIPLE TARGETS
Temblor, Eocene & Cretaceous Formations
OPERATED WI & NonOp WI Available
Gross Production: 51 BOPD & Some Gas
Net Production: 33 BOEPD
Net Cash Flow: $34,400/Mn
LOW RISK. LOW DECLINE
CONTACT ENERGY ADVISORS GROUP
PP 4415DV
Executive Summary
Crimson Resource Management Corp. is looking to monetize certain San Joaquin noncore operated and NonOperated interests concentrated in Fresno Co., California.

In total, the package consists of 137-wells and six (6) leases (6-PDP, 111-Inactive, 20-P&A) with current volumes of 51 BOPD with some gas. Together the leases have a 12-Mn average net cash flow of $34,400/Mn. Crimson acquired the producing Fresno properties from Chevron in 1996. As non-core properties in its portfolio, Crimson has invested zero capex in the past 8 years leaving potential buyers with considerable upside. Of the idle wells, many can be returned to production and some offset well activity suggests there are multiple opportunities to maximize EURs in these neglected assets.

Leases Overview
Jacalitos Fee – Jacalitos Field (Fresno Co.) – Crimson's fee simple acreage includes some 3,000 contiguous acres of minerals and surface. This active, profitable property has no depth restrictions. The large acreage position offers considerable scale and offsets successful Holmes Western properties. The fields produce light oil (>35 API) receiving ~10% premium to WTI. Crimson will deliver 100% WI (83.33% NRI) plus surface and operations; Coalinga Feed Yards leases from operator and uses it for grazing.

Jacalitos Upper Temblor 'B' Unit (JUTBU) (Fresno Co.) – Jacalitos Field is unitized and contiguous with the Jacalitos Fee. It is currently operated by H.T. Olsen and is a profitable property. Crimson holds approximately 8.8% non-operated working interest (8.8% NRI) in the property due to its unburdened mineral fee contribution to the Unit.

Sherman Fee - Jacalitos Field (Fresno Co.) – Contiguous with Jacalitos Fee, this property is fee simple and incl 100% operated working interest (95% NRI) as well as surface and operations.

Noble Lease (Fresno Co.) – Helm Field – This lease incl 100% operated WI and variable NRI.

Covey, Cerini, Kleinhammer, Transamerica Lease – Van Ness Slough Field (Fresno Co.) includes 100% WI. .

Sacramento Airport #18-3 Lease, Sacramento County – The only non-Fresno County asset. Incl 40% WI and one idle gas well operated by Stream Energy.

This sale package allows a buyer to acquire stable cash flow from mature low risk fields with development potential.

TO LEARN MORE
Energy Advisors Group
Mr. David Kessler
Director
5120 Woodway Dr Ste 10010
Houston, TX 77056
USA
Phone: 713-600-0123 Fax: 713-600-0138 Cell: 832-629-8698
Email: [email protected]

CALIFORNIA PRODUCTION FOR SALE
137-Wells. ~4,070-Net Acres.
FRESNO & SACRAMENTO COUNTIES
JACALITOS FIELD MULTIPLE TARGETS
Temblor, Eocene & Cretaceous Formations
OPERATED WI & NonOp WI Available
Gross Production: 51 BOPD & Some Gas
Net Production: 33 BOEPD
Net Cash Flow: $34,400/Mn
LOW RISK. LOW DECLINE
CONTACT ENERGY ADVISORS GROUP
PP 4415DV
Executive Summary
Crimson Resource Management Corp. is looking to monetize certain San Joaquin noncore operated and NonOperated interests concentrated in Fresno Co., California.

In total, the package consists of 137-wells and six (6) leases (6-PDP, 111-Inactive, 20-P&A) with current volumes of 51 BOPD with some gas. Together the leases have a 12-Mn average net cash flow of $34,400/Mn. Crimson acquired the producing Fresno properties from Chevron in 1996. As non-core properties in its portfolio, Crimson has invested zero capex in the past 8 years leaving potential buyers with considerable upside. Of the idle wells, many can be returned to production and some offset well activity suggests there are multiple opportunities to maximize EURs in these neglected assets.

Leases Overview
Jacalitos Fee – Jacalitos Field (Fresno Co.) – Crimson's fee simple acreage includes some 3,000 contiguous acres of minerals and surface. This active, profitable property has no depth restrictions. The large acreage position offers considerable scale and offsets successful Holmes Western properties. The fields produce light oil (>35 API) receiving ~10% premium to WTI. Crimson will deliver 100% WI (83.33% NRI) plus surface and operations; Coalinga Feed Yards leases from operator and uses it for grazing.

Jacalitos Upper Temblor 'B' Unit (JUTBU) (Fresno Co.) – Jacalitos Field is unitized and contiguous with the Jacalitos Fee. It is currently operated by H.T. Olsen and is a profitable property. Crimson holds approximately 8.8% non-operated working interest (8.8% NRI) in the property due to its unburdened mineral fee contribution to the Unit.

Sherman Fee - Jacalitos Field (Fresno Co.) – Contiguous with Jacalitos Fee, this property is fee simple and incl 100% operated working interest (95% NRI) as well as surface and operations.

Noble Lease (Fresno Co.) – Helm Field – This lease incl 100% operated WI and variable NRI.

Covey, Cerini, Kleinhammer, Transamerica Lease – Van Ness Slough Field (Fresno Co.) includes 100% WI. .

Sacramento Airport #18-3 Lease, Sacramento County – The only non-Fresno County asset. Incl 40% WI and one idle gas well operated by Stream Energy.

This sale package allows a buyer to acquire stable cash flow from mature low risk fields with development potential.

TO LEARN MORE
Energy Advisors Group
Mr. David Kessler
Director
5120 Woodway Dr Ste 10010
Houston, TX 77056
USA
Phone: 713-600-0123 Fax: 713-600-0138 Cell: 832-629-8698
Email: [email protected]