Quick Small Package. Buy Now.
Royalties & Overrides
All Standard Disclaimers Apply & Seller Rights Retained
---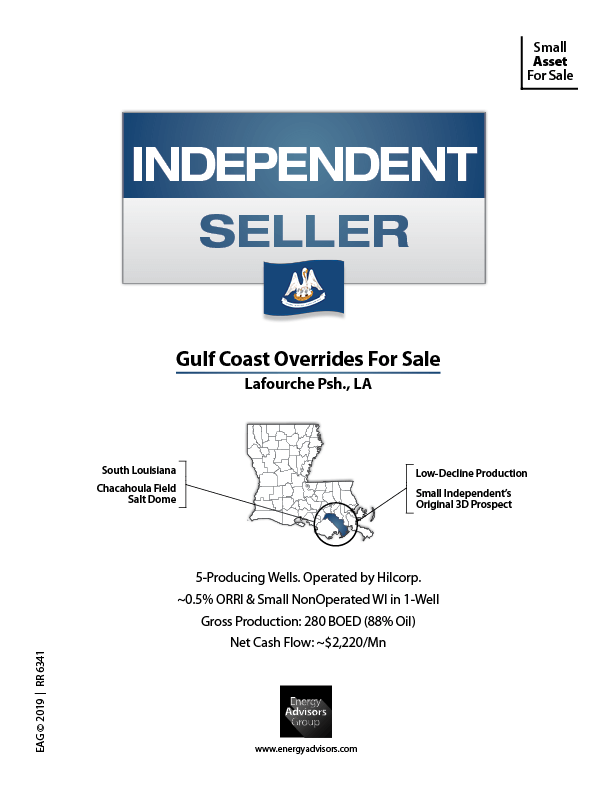 LAFOURCHE PH., LA ORRI FOR SALE
5-Producers. Operated By Hilcorp.
CHACAHOULA FIELD
LOW DECLINE FLAT PRODUCTION
DIBERT & BIG C RESERVOIRS
~0.5% ORRI & Small NonOperated WI
Gross Production: ~280 BOED (88% Oil)
Small Overrides Cash Flow: $2,300/Mn
Seller Has Larger SLA Pkgs Coming Out
SMALL PKG SOLD BY EAG. NOV 2019
RR 6341
Deal Summary:
A Private Seller has engaged Energy Advisors Group to assist in marketing their Gulf Coast Override and Small Working Interest package located in Lafourche Psh., LA.

Asset Overview:
The package consists of 5-Producing wells operated by Hilcorp situated on the Chacahoula field salt dome. Overrides range from 0.020782%-0.514584% and one well has an additional NonOperated WI of 0.65625% (72% Lease NRI). During July 2019, the assets generated gross production of 246 BOPD & 210 MCFD (281 BOED) with a 12-month average net cash flow of $2,321 per month including ~$200 of monthly operating expenses.

Low-Decline Flat Production Highlights:
The DS&B 119 (17-057-22888) was completed in the Big 2C reservoir in July 2003. Since then, the 119 has produced less than 500 total barrels of water in 16 years on production. As of July 2019, the well was producing 188 BOPD & 75 MCFD (201 BOED) at water cut of 0.028% and a 5-month effective decline of 3.74%.

------ NO C.A. REQUIRED ------

CONTACT ENERGY ADVISORS FOR FULL VDR ACCESS:
Energy Advisors Group
Mr. Eric Thompson
A&D Director
Phone: 713-600-0123
Direct: 713-600-0136
Email: [email protected]

LAFOURCHE PH., LA ORRI FOR SALE
5-Producers. Operated By Hilcorp.
CHACAHOULA FIELD
LOW DECLINE FLAT PRODUCTION
DIBERT & BIG C RESERVOIRS
~0.5% ORRI & Small NonOperated WI
Gross Production: ~280 BOED (88% Oil)
Small Overrides Cash Flow: $2,300/Mn
Seller Has Larger SLA Pkgs Coming Out
SMALL PKG SOLD BY EAG. NOV 2019
RR 6341
Deal Summary:
A Private Seller has engaged Energy Advisors Group to assist in marketing their Gulf Coast Override and Small Working Interest package located in Lafourche Psh., LA.

Asset Overview:
The package consists of 5-Producing wells operated by Hilcorp situated on the Chacahoula field salt dome. Overrides range from 0.020782%-0.514584% and one well has an additional NonOperated WI of 0.65625% (72% Lease NRI). During July 2019, the assets generated gross production of 246 BOPD & 210 MCFD (281 BOED) with a 12-month average net cash flow of $2,321 per month including ~$200 of monthly operating expenses.

Low-Decline Flat Production Highlights:
The DS&B 119 (17-057-22888) was completed in the Big 2C reservoir in July 2003. Since then, the 119 has produced less than 500 total barrels of water in 16 years on production. As of July 2019, the well was producing 188 BOPD & 75 MCFD (201 BOED) at water cut of 0.028% and a 5-month effective decline of 3.74%.

------ NO C.A. REQUIRED ------

CONTACT ENERGY ADVISORS FOR FULL VDR ACCESS:
Energy Advisors Group
Mr. Eric Thompson
A&D Director
Phone: 713-600-0123
Direct: 713-600-0136
Email: [email protected]