DE-RISKED CONVENTIONAL PROJECT
Drilling Prospects
All Standard Disclaimers Apply & Seller Rights Retained
---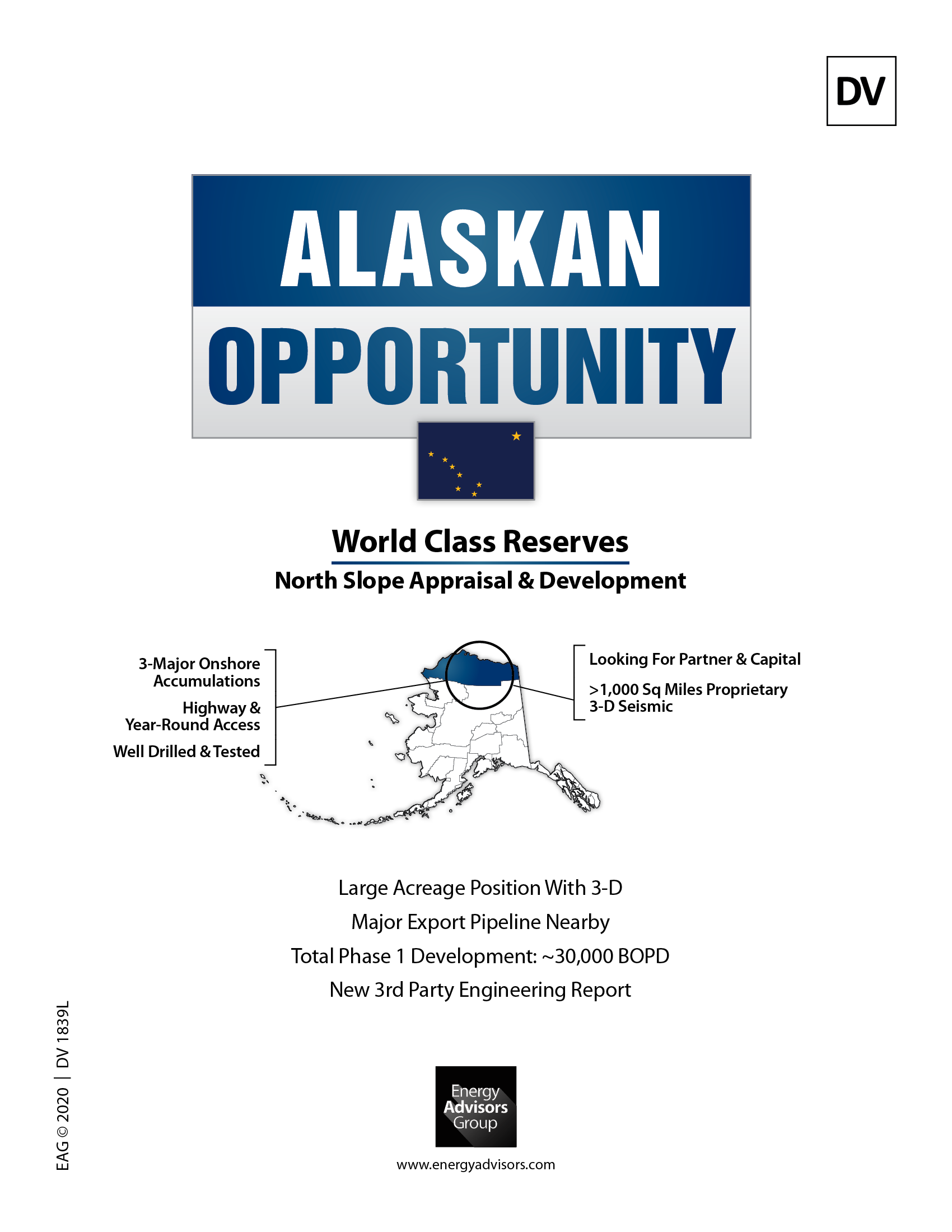 ALASKA APPRAISAL & DEVELOPMENT
200,000 Acres Leased W/ Oil Discoveries
THREE MAJOR OIL ACCUMULATIONS
One Brookian Well Drilled & Tested
2nd Well (Brookian & Kuparuk) To Be Tested
>1,000 Sq Miles Proprietary 3D Seismic
Low Breakevens W/ Premium Oil Pricing.
90-100% OPERATED WI. >83% NRI
Expected IP: >1,500-2,000 BOPD
Phase 1 Field Development.~30,000 BOPD
Development Ready w/ Export Pipeline
Highway & Year-Round Access
7-8 Bbbls OIP. 10-15% Recovery
TARGETING PRODUCTION IN 2020
SEEKS DEVELOPMENT PARTNER
PRESENTATIONS START SPRING 2020
PLEASE CONTACT EAG FOR INTRO
DV 1839L
SUMMARY OPPORTUNITY---
Energy Advisors Group has been retained by an Independent Explorer to locate a farm-in partner for its world-class portfolio on the North Slope of Alaska. Located adjacent to Alaska's major export pipeline and only major highway, their project portfolio offers discovered multi-hundred million barrel potential - the equivalent of deep-water oilfields, yet located onshore U.S.

PROJECT SUMMARY
Recently, the Independent Explorer announced the discovery of light oil (40° API) at their prospect, which lies virtually under the Trans-Alaska Pipeline (estimated OIP of 900 million barrels). The company plans to commence commercial production as early as 2020.

SALE ATTRIBUTES
---Drill-Ready, Follow-up To Original Well Already Drilled.
---Appraisal Opportunity For In Excess of 5.0 billion OIP
---200,000 Acres Covered By 3D Including Several Discoveries.
---High Value Certified Contingent Resources Ready For Development.
---All Discoveries Adjoin The Export Infrastructure, Expediting Production.

---Company is Seeking a Farm In Partner For This World Class Project.
---They Are Seeking Some Reimbursement For Back Costs Plus Funding For 1-2 Wells Going Forward.
---The Company Plans To Drill 1 Well In 2020 and 2-3 Wells Over The Next 2 Years.

UNIQUE ADVANTAGES TO EXPLORING IN ALASKA
---Alaska's North Slope is a Prolific Hydrocarbon Province
---Alaska Oil Trades at Significant Premium to WTI
---Alaska Pipeline Has Spare Capacity; Allowed to Export Oil and Gas.
---Low Royalties: 12.5-16.7%
---Recent Discoveries Rate Amongst the Largest in the World

"The Nanushuk (Brookian) play on the North Slope of Alaska, is currently the world's hottest, conventional, onshore play. Since our discovery of the Pikka Field in 2013, the Nanushuk play has had an extremely high exploration success rate with five large new discoveries, yet the play is still in its infancy and has barely been explored."
- Bill Armstrong, CEO Armstrong Oil & Gas (February 2020)

TO LEARN MORE
Energy Advisors Group
Mr. David Kessler
Director
5120 Woodway Dr Ste 10010
Houston, TX 77056
----Phone: 713-600-0123 Fax: 713-600-0138 Direct: 832-629-8698 Cell: 832-629-8698
----Email: [email protected]

Or Contact Ronyld W Wise at 713-600-0130 or [email protected] or Craig Davis at [email protected]

ALASKA APPRAISAL & DEVELOPMENT
200,000 Acres Leased W/ Oil Discoveries
THREE MAJOR OIL ACCUMULATIONS
One Brookian Well Drilled & Tested
2nd Well (Brookian & Kuparuk) To Be Tested
>1,000 Sq Miles Proprietary 3D Seismic
Low Breakevens W/ Premium Oil Pricing.
90-100% OPERATED WI. >83% NRI
Expected IP: >1,500-2,000 BOPD
Phase 1 Field Development.~30,000 BOPD
Development Ready w/ Export Pipeline
Highway & Year-Round Access
7-8 Bbbls OIP. 10-15% Recovery
TARGETING PRODUCTION IN 2020
SEEKS DEVELOPMENT PARTNER
PRESENTATIONS START SPRING 2020
PLEASE CONTACT EAG FOR INTRO
DV 1839L
SUMMARY OPPORTUNITY---
Energy Advisors Group has been retained by an Independent Explorer to locate a farm-in partner for its world-class portfolio on the North Slope of Alaska. Located adjacent to Alaska's major export pipeline and only major highway, their project portfolio offers discovered multi-hundred million barrel potential - the equivalent of deep-water oilfields, yet located onshore U.S.

PROJECT SUMMARY
Recently, the Independent Explorer announced the discovery of light oil (40° API) at their prospect, which lies virtually under the Trans-Alaska Pipeline (estimated OIP of 900 million barrels). The company plans to commence commercial production as early as 2020.

SALE ATTRIBUTES
---Drill-Ready, Follow-up To Original Well Already Drilled.
---Appraisal Opportunity For In Excess of 5.0 billion OIP
---200,000 Acres Covered By 3D Including Several Discoveries.
---High Value Certified Contingent Resources Ready For Development.
---All Discoveries Adjoin The Export Infrastructure, Expediting Production.

---Company is Seeking a Farm In Partner For This World Class Project.
---They Are Seeking Some Reimbursement For Back Costs Plus Funding For 1-2 Wells Going Forward.
---The Company Plans To Drill 1 Well In 2020 and 2-3 Wells Over The Next 2 Years.

UNIQUE ADVANTAGES TO EXPLORING IN ALASKA
---Alaska's North Slope is a Prolific Hydrocarbon Province
---Alaska Oil Trades at Significant Premium to WTI
---Alaska Pipeline Has Spare Capacity; Allowed to Export Oil and Gas.
---Low Royalties: 12.5-16.7%
---Recent Discoveries Rate Amongst the Largest in the World

"The Nanushuk (Brookian) play on the North Slope of Alaska, is currently the world's hottest, conventional, onshore play. Since our discovery of the Pikka Field in 2013, the Nanushuk play has had an extremely high exploration success rate with five large new discoveries, yet the play is still in its infancy and has barely been explored."
- Bill Armstrong, CEO Armstrong Oil & Gas (February 2020)

TO LEARN MORE
Energy Advisors Group
Mr. David Kessler
Director
5120 Woodway Dr Ste 10010
Houston, TX 77056
----Phone: 713-600-0123 Fax: 713-600-0138 Direct: 832-629-8698 Cell: 832-629-8698
----Email: [email protected]

Or Contact Ronyld W Wise at 713-600-0130 or [email protected] or Craig Davis at [email protected]