SMALL ROYALTY PACKAGE
Royalties & Overrides
All Standard Disclaimers Apply & Seller Rights Retained
---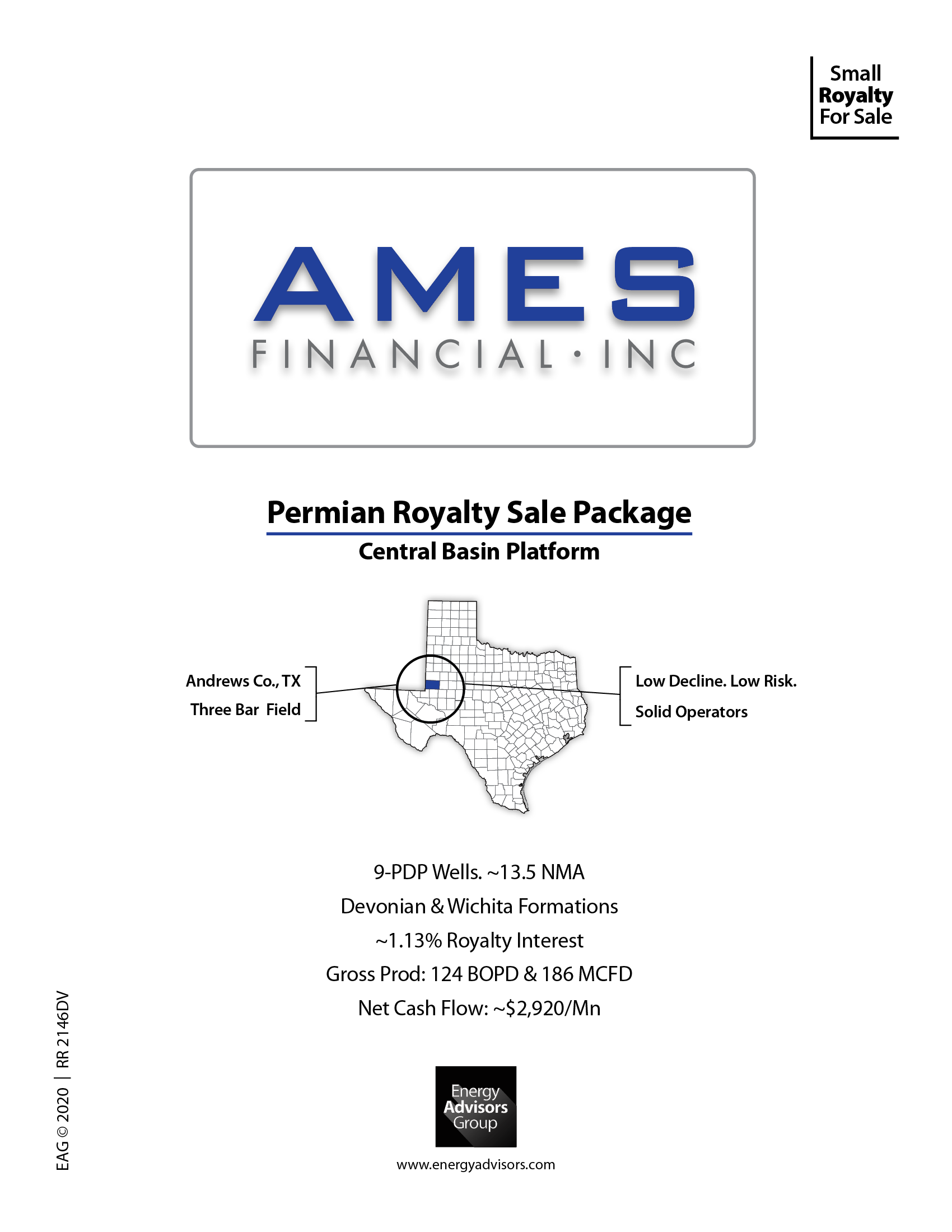 ANDREWS CO TX OVERRIDE
9-PDP Wells. ~13.5 Net Mineral Acres
DEVONIAN & WICHITA
Solid Operators. 1-Major. 1-Independent
LOW DECLINE. LOW RISK.
~1.13% Royalty Interest For Sale
Gross Prod: 116 BOPD & 128 MCFD
Net Production: 1.3 BOPD & 1.4 MCFD
Net Cash Flow: ~$2,800-$3,300 /Mn
PACKAGE BACK ON MARKET
RR 2146DV
Summary
Ames Financial Inc is marketing a small royalty interest in Permian Basin operated by solid operators with ~$2,800 per month net cash flow in the last four months.

The sale package consists of 1,280 gross mineral acres and ~13.5 net mineral acres in Andrews Co., TX. There are 9 producing wells with current gross production of 116 BOPD and 128 MCFD. The package includes ~1.13% royalty interest with current net production of 1.3 BOPD & 1.4 MCFD.

Last Four Months Checks---
September….. $2,716 Mn
October……… $2,312 Mn
November…….$2,821 Mn
December…….$3,342 Mn

Wells---
The leases include the XTO opiated J.E. Parker 2105H; 2105LH; 2106H; 2108H (MD 12,650-12,906 Ft) and the Vin Fisher J.E. Parker 52, 38, 50,47, 47 (MD 8,100-8,390 Ft). The XTO wells reported HZ lengths of 5,885 to 6,485 Ft.

API---
4200347126
4200347083
4200347047
4200345817
4200336840
4200303015
4200302497
4200302494
4200302493

This quick Sale Package allows a buyer to receive stable cash flow from successful Permian wells under solid operators.

TO LEARN MORE CONTACT
Richard S. Martin
Director – Special Projects & Execution
Energy Advisors Group
Formerly PLS Divestment Services
14875 Landmark Blvd, Ste 125
Dallas, TX 75254
--- Cell/Text - 469-866-9796
--- Email: [email protected]

ANDREWS CO TX OVERRIDE
9-PDP Wells. ~13.5 Net Mineral Acres
DEVONIAN & WICHITA
Solid Operators. 1-Major. 1-Independent
LOW DECLINE. LOW RISK.
~1.13% Royalty Interest For Sale
Gross Prod: 116 BOPD & 128 MCFD
Net Production: 1.3 BOPD & 1.4 MCFD
Net Cash Flow: ~$2,800-$3,300 /Mn
PACKAGE BACK ON MARKET
RR 2146DV
Summary
Ames Financial Inc is marketing a small royalty interest in Permian Basin operated by solid operators with ~$2,800 per month net cash flow in the last four months.

The sale package consists of 1,280 gross mineral acres and ~13.5 net mineral acres in Andrews Co., TX. There are 9 producing wells with current gross production of 116 BOPD and 128 MCFD. The package includes ~1.13% royalty interest with current net production of 1.3 BOPD & 1.4 MCFD.

Last Four Months Checks---
September….. $2,716 Mn
October……… $2,312 Mn
November…….$2,821 Mn
December…….$3,342 Mn

Wells---
The leases include the XTO opiated J.E. Parker 2105H; 2105LH; 2106H; 2108H (MD 12,650-12,906 Ft) and the Vin Fisher J.E. Parker 52, 38, 50,47, 47 (MD 8,100-8,390 Ft). The XTO wells reported HZ lengths of 5,885 to 6,485 Ft.

API---
4200347126
4200347083
4200347047
4200345817
4200336840
4200303015
4200302497
4200302494
4200302493

This quick Sale Package allows a buyer to receive stable cash flow from successful Permian wells under solid operators.

TO LEARN MORE CONTACT
Richard S. Martin
Director – Special Projects & Execution
Energy Advisors Group
Formerly PLS Divestment Services
14875 Landmark Blvd, Ste 125
Dallas, TX 75254
--- Cell/Text - 469-866-9796
--- Email: [email protected]