COVE NONOPERATED WI SUBPKG 2
Producing Properties
All Standard Disclaimers Apply & Seller Rights Retained
---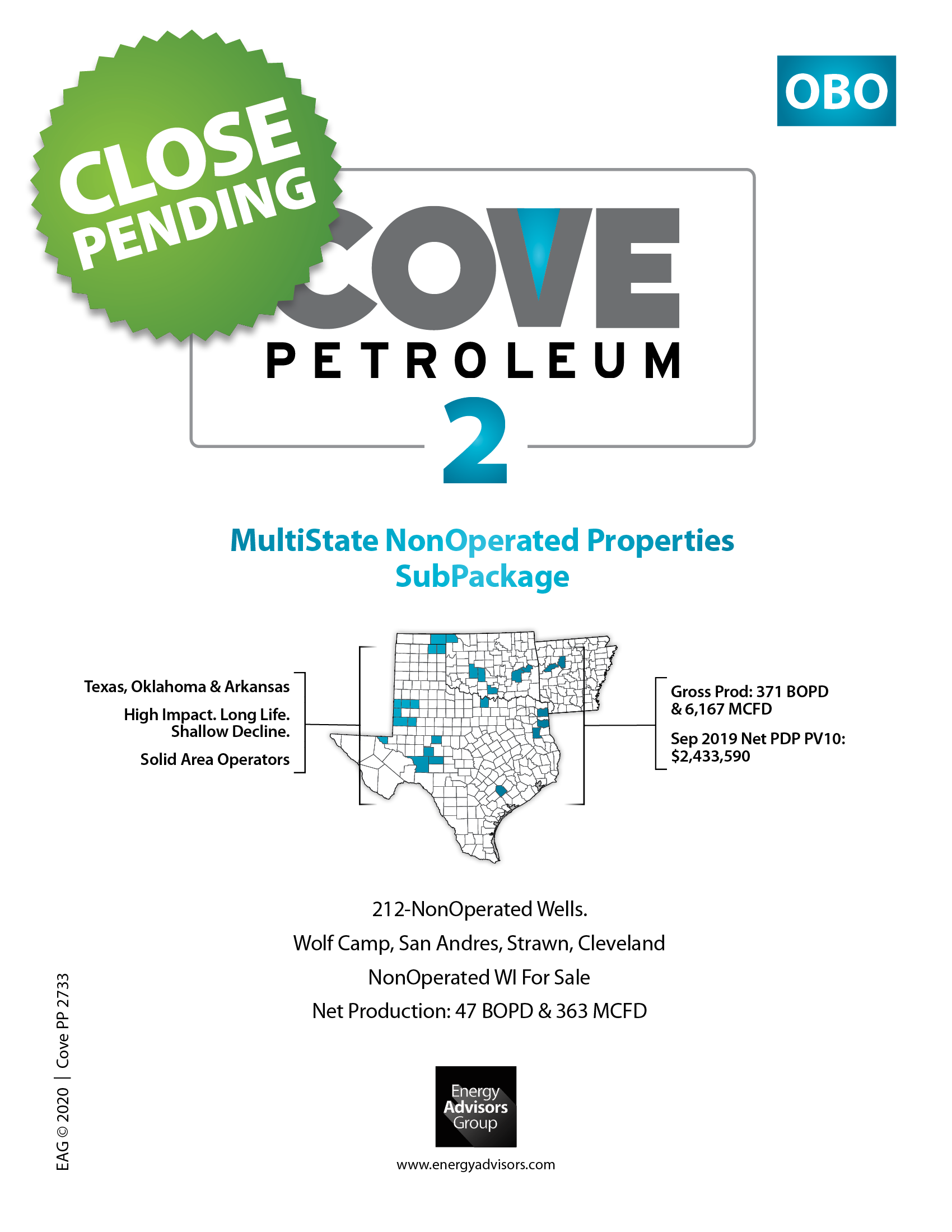 TEXAS, OKLAHOMA & ARKANSAS
212-NonOperated Wells.
WOLFCAMP, SAN ANDRES, STRAWN,
CLEVELAND
SOLID AREA OPERATORS
NonOperated WI For Sale
Gross Prod: 371 BOPD & 6,167 MCFD
Net Production: 47 BOPD & 363 MCFD
Sep 2019 Net PDP PV10: $2,433,590
Net Cash Flow: ~$42,000 Mn
OFFERS DUE APRIL 15TH, 2020
SUBPACKAGE #2
PP 2733
Seller Seeks to Monetize Total Portfolio & Will Consider Offers Along Asset Type

Summary
Energy Advisors Group has been retained by Cove Petroleum to assist in marketing their entire portfolio of Operated WI, NonOperated WI and RI/ORRI in 422 wells, mainly in Texas, Oklahoma and Arkansas.

Engineering, Accounting and Land Files Include Data for the Total Portfolio and Subpackage

SUBPACKAGE 2----
This is a subpackage of Cove Petroleum's entire portfolio consisting of a portion of their nonoperated wells. This package includes 212-wells producing mainly in Texas, Oklahoma and Arkansas. These nonoperated wells have a net production of 47 BOPD & 371 MCFD and a Net PDP PV10 of $2,433,590.

For more detail regarding the portfolio and it's subpackages please open the QuickLook under Summary & Introductory Material.

Please Note---
The Seller Will Entertain Offers for the Cove SubPackage #2 so much as they can secure proper offers for the total portfolio. Offers are due April 15, 2020

Click below for SubPackages:
Cove Total Sale Package
Package #1 Cove Operated & NonOperated Properties (North Permian)
Package #3 Cove Mineral and Royalties

TO LEARN MORE
Energy Advisors Group
Mr. Blake Dornak
A&D Director
5120 Woodway Dr Ste 10010
Houston, TX 77056
---Phone: 713-600-0123 Direct: 713-600-0169 Cell: 903-390-6803
---Email: [email protected]

TEXAS, OKLAHOMA & ARKANSAS
212-NonOperated Wells.
WOLFCAMP, SAN ANDRES, STRAWN,
CLEVELAND
SOLID AREA OPERATORS
NonOperated WI For Sale
Gross Prod: 371 BOPD & 6,167 MCFD
Net Production: 47 BOPD & 363 MCFD
Sep 2019 Net PDP PV10: $2,433,590
Net Cash Flow: ~$42,000 Mn
OFFERS DUE APRIL 15TH, 2020
SUBPACKAGE #2
PP 2733
Seller Seeks to Monetize Total Portfolio & Will Consider Offers Along Asset Type

Summary
Energy Advisors Group has been retained by Cove Petroleum to assist in marketing their entire portfolio of Operated WI, NonOperated WI and RI/ORRI in 422 wells, mainly in Texas, Oklahoma and Arkansas.

Engineering, Accounting and Land Files Include Data for the Total Portfolio and Subpackage

SUBPACKAGE 2----
This is a subpackage of Cove Petroleum's entire portfolio consisting of a portion of their nonoperated wells. This package includes 212-wells producing mainly in Texas, Oklahoma and Arkansas. These nonoperated wells have a net production of 47 BOPD & 371 MCFD and a Net PDP PV10 of $2,433,590.

For more detail regarding the portfolio and it's subpackages please open the QuickLook under Summary & Introductory Material.

Please Note---
The Seller Will Entertain Offers for the Cove SubPackage #2 so much as they can secure proper offers for the total portfolio. Offers are due April 15, 2020

Click below for SubPackages:
Cove Total Sale Package
Package #1 Cove Operated & NonOperated Properties (North Permian)
Package #3 Cove Mineral and Royalties

TO LEARN MORE
Energy Advisors Group
Mr. Blake Dornak
A&D Director
5120 Woodway Dr Ste 10010
Houston, TX 77056
---Phone: 713-600-0123 Direct: 713-600-0169 Cell: 903-390-6803
---Email: [email protected]