COVE MINERAL/ROYALTY SUBPKG 3
Royalties & Overrides
All Standard Disclaimers Apply & Seller Rights Retained
---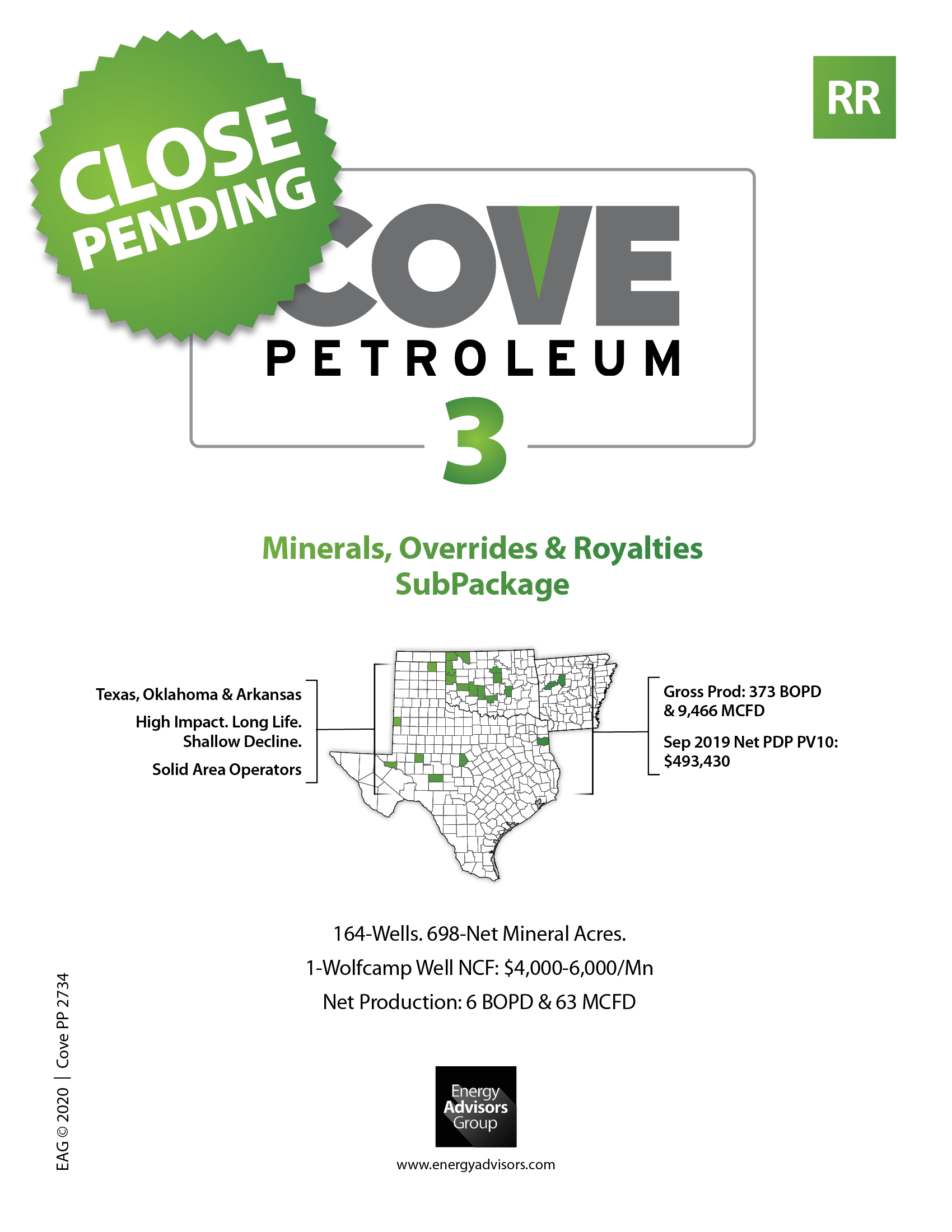 SMALL MINERAL & ROYALTY PKG
164-Wells. 698-Net Mineral Acres
High Impact. Long Life. Shallow Decline.
SOLID AREA OPERATORS
Mineral, Royalty & Overrides For Sale
Gross Prod: 373 BOPD & 9,466 MCFD
Net Production: 6 BOPD & 63 MCFD
Annual Net Revenue: $149,890/Yr
Net Cash Flow: ~$12,400/Mn
Sep 2019 Net PDP PV10: $493,430
OFFERS DUE APRIL 15TH, 2020
SUBPACKAGE #3
RR 2734
Seller Seeks to Monetize Total Portfolio & Will Consider Offers Along Asset Type

Summary
Energy Advisors Group has been retained by Cove Petroleum to assist in marketing their entire portfolio of Operated WI, NonOperated WI and RI/ORRI in 422 wells, mainly in Texas, Oklahoma and Arkansas.

Engineering and Land Files Include Data for the Total Portfolio and Subpackage

SUBPACKAGE 3----
This is a SubPackage of Cove Petroleum's Minerals, Royalty & Overrides that make up part of their overall portfolio.

This SubPackage includes 164-wells producing mainly in Texas, Oklahoma and Arkansas and 698-Non-Producing Net Mineral Acres. These wells have a net production of 6 BOPD & 63 MCFD and a Net PDP PV10 of $493,430.

Please See 02. Accounting. For Last 5-Months of Net Cash Flow.
The ORRI + RI for the Cove Petroleum assets totals $56,152. The ORRI + RI for the Betty A Mockley assets totals $6,304. These revenues are the paid revenue after Severance Tax and other deductions for a $149,897 annualized net revenue.

There are specifically two key mineral and royalty rights in Ward Co., TX and Roger Mills Co., OK which deserve discussion.

Ward Co., TX Override
Cove owns an override in Ward Co. based on the sale of their leasehold in the 320 acres. Cove delivered 75% NRI to the WI. (Oasis Petroleum). Cove retained the difference in actual NRI less the 75% as an ORRI. To-date, one Wolfcamp well (U.L. Kerwin A 18-12 7101H) has been drilled and the well has cash flowed between $4,000-$6,000 Mn. There should ultimately be 4x total Wolfcamp wells in the section. In addition, Bone Springs is being developed just west of this location and the University Lands 18-12 #1 and #2 vertical wells have thick Bone Springs section as per their respective open-hole logs.

Roger Mills Co., OK Non-Producing Minerals
The Tecolote Energy operated Little-Pyeatt 30-19 ME WX 1H extended lateral well was completed in 9,518 feet of productive lateral within the Marmaton 'E' and achieved the highest 30-day initial production rate from the POWER play to date. The well produced at a 30-day initial production rate of 4,164 Boepd of which 55% of the production was comprised of oil and natural gas liquids. Production on a 24-hour basis peaked at 4,481 BOPD.

The well provides confirmation that the play extends another 14 miles to the northwest of the previously announced Meadows-Clifford pad which includes two extended lateral wells, one producing from the Marmaton 'D' and one producing from the Marmaton 'E'. The Meadows-Clifford 31-30 ME EX 2H has set additional production records by achieving the highest five-month cumulative production from a horizontal well in Hemphill county history at 375 thousand barrels of oil equivalent.

Early results indicate the NEXTGEN completion technique has altered the type-curve decline profile of the wells in the play as the Meadows-Clifford 31-30 ME EX 2H production continues to exceed 3,000 Boepd five months after initial production. To date, the Meadows-Clifford pad has produced 575 MBOE in the first five months of production.

Tecolote has completed (6x) six consecutive extended lateral wells in three separate Pennsylvanian reservoirs with an average of 1,500 pounds of proppant per foot of lateral length. The six wells average 9,670 feet of productive lateral and an average 30-day initial production rate of 2,837 Boepd of which 58% of the production is comprised of oil and natural gas liquids.

For more detail regarding the portfolio and it's subpackages please open the Quicklook under Summary & Introductory Material.

Please Note---
The Seller Will Entertain Offers for the Cove SubPackage #3 so much as they can secure proper offers for the total portfolio.

Click below for SubPackages:
Cove Total Sale Package
Package #1 Cove Operated & NonOperated Properties (North Permian)
Package #2 Cove Scattered NonOperated WI

TO LEARN MORE
Energy Advisors Group
Mr. Blake Dornak
A&D Director
5120 Woodway Dr Ste 10010
Houston, TX 77056
---Phone: 713-600-0123 Direct: 713-600-0169 Cell: 903-390-6803
---Email: [email protected]

SMALL MINERAL & ROYALTY PKG
164-Wells. 698-Net Mineral Acres
High Impact. Long Life. Shallow Decline.
SOLID AREA OPERATORS
Mineral, Royalty & Overrides For Sale
Gross Prod: 373 BOPD & 9,466 MCFD
Net Production: 6 BOPD & 63 MCFD
Annual Net Revenue: $149,890/Yr
Net Cash Flow: ~$12,400/Mn
Sep 2019 Net PDP PV10: $493,430
OFFERS DUE APRIL 15TH, 2020
SUBPACKAGE #3
RR 2734
Seller Seeks to Monetize Total Portfolio & Will Consider Offers Along Asset Type

Summary
Energy Advisors Group has been retained by Cove Petroleum to assist in marketing their entire portfolio of Operated WI, NonOperated WI and RI/ORRI in 422 wells, mainly in Texas, Oklahoma and Arkansas.

Engineering and Land Files Include Data for the Total Portfolio and Subpackage

SUBPACKAGE 3----
This is a SubPackage of Cove Petroleum's Minerals, Royalty & Overrides that make up part of their overall portfolio.

This SubPackage includes 164-wells producing mainly in Texas, Oklahoma and Arkansas and 698-Non-Producing Net Mineral Acres. These wells have a net production of 6 BOPD & 63 MCFD and a Net PDP PV10 of $493,430.

Please See 02. Accounting. For Last 5-Months of Net Cash Flow.
The ORRI + RI for the Cove Petroleum assets totals $56,152. The ORRI + RI for the Betty A Mockley assets totals $6,304. These revenues are the paid revenue after Severance Tax and other deductions for a $149,897 annualized net revenue.

There are specifically two key mineral and royalty rights in Ward Co., TX and Roger Mills Co., OK which deserve discussion.

Ward Co., TX Override
Cove owns an override in Ward Co. based on the sale of their leasehold in the 320 acres. Cove delivered 75% NRI to the WI. (Oasis Petroleum). Cove retained the difference in actual NRI less the 75% as an ORRI. To-date, one Wolfcamp well (U.L. Kerwin A 18-12 7101H) has been drilled and the well has cash flowed between $4,000-$6,000 Mn. There should ultimately be 4x total Wolfcamp wells in the section. In addition, Bone Springs is being developed just west of this location and the University Lands 18-12 #1 and #2 vertical wells have thick Bone Springs section as per their respective open-hole logs.

Roger Mills Co., OK Non-Producing Minerals
The Tecolote Energy operated Little-Pyeatt 30-19 ME WX 1H extended lateral well was completed in 9,518 feet of productive lateral within the Marmaton 'E' and achieved the highest 30-day initial production rate from the POWER play to date. The well produced at a 30-day initial production rate of 4,164 Boepd of which 55% of the production was comprised of oil and natural gas liquids. Production on a 24-hour basis peaked at 4,481 BOPD.

The well provides confirmation that the play extends another 14 miles to the northwest of the previously announced Meadows-Clifford pad which includes two extended lateral wells, one producing from the Marmaton 'D' and one producing from the Marmaton 'E'. The Meadows-Clifford 31-30 ME EX 2H has set additional production records by achieving the highest five-month cumulative production from a horizontal well in Hemphill county history at 375 thousand barrels of oil equivalent.

Early results indicate the NEXTGEN completion technique has altered the type-curve decline profile of the wells in the play as the Meadows-Clifford 31-30 ME EX 2H production continues to exceed 3,000 Boepd five months after initial production. To date, the Meadows-Clifford pad has produced 575 MBOE in the first five months of production.

Tecolote has completed (6x) six consecutive extended lateral wells in three separate Pennsylvanian reservoirs with an average of 1,500 pounds of proppant per foot of lateral length. The six wells average 9,670 feet of productive lateral and an average 30-day initial production rate of 2,837 Boepd of which 58% of the production is comprised of oil and natural gas liquids.

For more detail regarding the portfolio and it's subpackages please open the Quicklook under Summary & Introductory Material.

Please Note---
The Seller Will Entertain Offers for the Cove SubPackage #3 so much as they can secure proper offers for the total portfolio.

Click below for SubPackages:
Cove Total Sale Package
Package #1 Cove Operated & NonOperated Properties (North Permian)
Package #2 Cove Scattered NonOperated WI

TO LEARN MORE
Energy Advisors Group
Mr. Blake Dornak
A&D Director
5120 Woodway Dr Ste 10010
Houston, TX 77056
---Phone: 713-600-0123 Direct: 713-600-0169 Cell: 903-390-6803
---Email: [email protected]