GULF COAST ROYALTY FOR SALE
Royalties & Overrides
All Standard Disclaimers Apply & Seller Rights Retained
---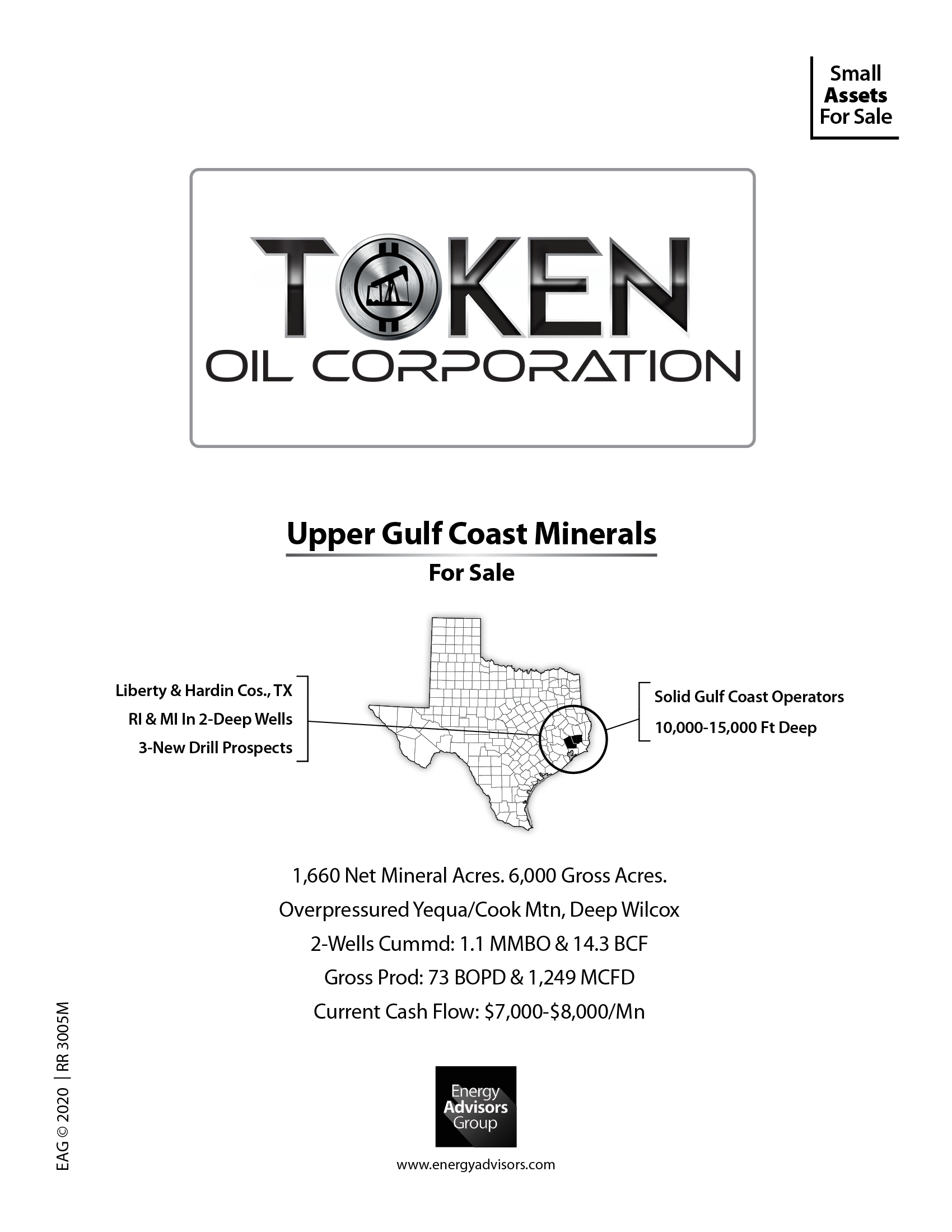 LIBERTY & HARDIN COS., TX
RI & MI In 2-Deep Wells. 3-New Permits
OVERPRESSURED YEGUA/COOK MTN
DEEP WILCOX
~1,675 Net Mineral Acres Out 6,000 Acres
Prolific Deep Wells 10,000-15,000 Ft
SOLID GULF COAST OPERATORS.
Producing Minerals, OV & NonOp WI
Gross Prod: 73 BOPD & 1,249 MCFD
2 Wells Cummd: 1.1 MMBO & 14.3 BCF
2019 Cash Incl Lse Bonuses: ~$334,120 Yr
New Wells Could Add $70,000 Mn
Current Net Cash Flow: $7,700-$12,000 Mn
Reduced Asking Price
MOTIVATED SELLER SEEKS OFFERS
RR 3005M
Energy Advisors Group has been retained by Token Oil Corporation to market a portion of their producing mineral, royalty, override and nonoperated working interest in the Upper Gulf Coast.

Reduced Asking Price

Feb-2020 Net Cash Flow: ~$11,750

Upper Gulf Coast, Texas Royalty and Mineral Tract for Sale

Liberty Co., TX
6,000-Gross Acres,
1,675-Net Mineral Acres in the Margarita Buye Survey, Liberty County, Texas.
Includes Royalty in 2 Deep Producing Wells:
•1 Well Operated by Wagner Oil; 42-291-32694; Cum. 3.9 BCFG and 588 MBO
•1 Well Operated by Ballard Exploration; 42-291-32653; Cum. 10.4 BCFG and 524 MBO

New Lease
Mineral owner leased out the minerals to TexBrit Corporation last March under a three-year (3) term. The company has not yet filed a permit.

New Lease (2019) on remaining acreage for 3-well drilling prospects. Overpressured Yegua and Cook Mountain (10,000' - 15,000'). Deeper potential in Wilcox.

Hardin Co., TX
~748-Net Mineral Acres (331-Producing NMA. 417-NonProducing NMA)

TO LEARN MORE
Energy Advisors Group
Mr. Richard Martin
Director – Special Projects & Execution
14875 Landmark Blvd Ste 125
Dallas, TX 75254
Phone: 214-774-2150 and Fax: 713-600-0138 Direct: 214-774-2495 Cell: 469-866-9796
Email: [email protected]

LIBERTY & HARDIN COS., TX
RI & MI In 2-Deep Wells. 3-New Permits
OVERPRESSURED YEGUA/COOK MTN
DEEP WILCOX
~1,675 Net Mineral Acres Out 6,000 Acres
Prolific Deep Wells 10,000-15,000 Ft
SOLID GULF COAST OPERATORS.
Producing Minerals, OV & NonOp WI
Gross Prod: 73 BOPD & 1,249 MCFD
2 Wells Cummd: 1.1 MMBO & 14.3 BCF
2019 Cash Incl Lse Bonuses: ~$334,120 Yr
New Wells Could Add $70,000 Mn
Current Net Cash Flow: $7,700-$12,000 Mn
Reduced Asking Price
MOTIVATED SELLER SEEKS OFFERS
RR 3005M
Energy Advisors Group has been retained by Token Oil Corporation to market a portion of their producing mineral, royalty, override and nonoperated working interest in the Upper Gulf Coast.

Reduced Asking Price

Feb-2020 Net Cash Flow: ~$11,750

Upper Gulf Coast, Texas Royalty and Mineral Tract for Sale

Liberty Co., TX
6,000-Gross Acres,
1,675-Net Mineral Acres in the Margarita Buye Survey, Liberty County, Texas.
Includes Royalty in 2 Deep Producing Wells:
•1 Well Operated by Wagner Oil; 42-291-32694; Cum. 3.9 BCFG and 588 MBO
•1 Well Operated by Ballard Exploration; 42-291-32653; Cum. 10.4 BCFG and 524 MBO

New Lease
Mineral owner leased out the minerals to TexBrit Corporation last March under a three-year (3) term. The company has not yet filed a permit.

New Lease (2019) on remaining acreage for 3-well drilling prospects. Overpressured Yegua and Cook Mountain (10,000' - 15,000'). Deeper potential in Wilcox.

Hardin Co., TX
~748-Net Mineral Acres (331-Producing NMA. 417-NonProducing NMA)

TO LEARN MORE
Energy Advisors Group
Mr. Richard Martin
Director – Special Projects & Execution
14875 Landmark Blvd Ste 125
Dallas, TX 75254
Phone: 214-774-2150 and Fax: 713-600-0138 Direct: 214-774-2495 Cell: 469-866-9796
Email: [email protected]